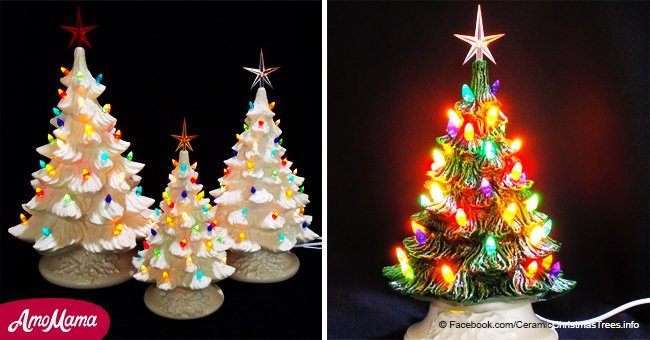 Amazing Christmas trees from our childhood are making a big comeback

Ceramic Christmas trees, which were popular in the 60s and 70s, are available in the market again.
These festive holiday décor can be bought from Target, Amazon and Urban Fitters – something that will surely delight mothers and grandmothers who used to have these during their childhood.
Aesthetically pleasing as they are, ceramic Christmas trees will surely be a hit among the younger generation, too.
Below are just some of the items that can be bought online. Follow us on our Twitter account, @amomama_usa, to learn more.
1. Mr. Christmas Ceramic Christmas Tree Figurine
This fine-crafted tree figurine is a perfect addition to one's Christmas decoration. It weighs six pounds with the overall dimension of 7 inches (height) x 4 inches (width) x 4 inches (depth). This is a good ceramic Christmas tree to decorate one's backyard with. It costs $15.
"It's sweet. It's just a simple ceramic tree that has pretty lights. My grandma had a taller one from the 1960's that I lost in a move and always wanted to replace it," one reviewer wrote on the Target website.
2. Light-Up LED Nostalgia Christmas Tree
This vintage-look ceramic tree comes fully trimmed with a light-up star and faceted multi-colored LED lights.It stands 17 inches with a cord length of 54 inches. This item can be bought online on Urban Fitters for $69.
3. Mr. Christmas Ceramic Christmas Ornament Green
This ceramic Christmas tree is 3.75 inches (height) by 2.5 inches (width) and costs only $5.
Here's one review from a happy buyer:
"It's super cute, and SO reminiscent of the ceramic tabletop tree that I had growing up! (Immediately why I bought it.) I see that everyone is complaining that it doesn't light up - pay attention to the price point.
"You won't get that functionality at that price. BUT - it is hollowed out, and there is a metal hook/attachment inside of it so that you can string one of your tree lights up into it and illuminate it that way. It was super easy to do and looks really cool on our tree! I absolutely recommend this ornament."
According to Why Christmas, "The first documented use of a tree at Christmas and New Year celebrations is argued between the cities of Tallinn in Estonia and Riga in Latvia! Both claim that they had the first trees; Tallinn in 1441 and Riga in 1510."
The 16th-century German preacher Martin Luther may have been the first individual to bring a Christmas Tree into a house, in the way we know it today.
There's a story that one night before Christmas, Luther was strolling through the forest and looked up to see the stars shining through the tree branches.
It was so beautiful to the point that he went home and told his kids that it helped him to remember Jesus, who left the stars of heaven to come to earth at Christmas.
Please fill in your e-mail so we can share with you our top stories!