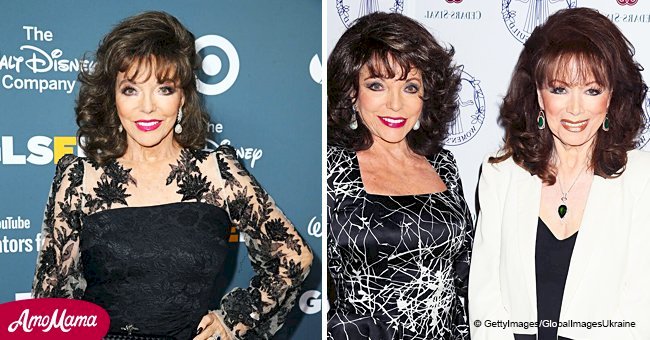 Joan Collins reveals her belief that sister Jackie visits her from beyond the grave as a fly
During a recent interview, and by chance, Joan Collins spoke about her belief that her sister Jackie comes to her in the form of a fly.
On a bright November afternoon, Sophie Heawood from The Guardian went to the luxury condo of Dame Joan Collins in Beverly Hills for an interview.
After being welcomed by Dame Joan's fifth husband who is 32 years her junior, the South American theatre producer Percy Gibson, left the woman alone to talk. A small fly started buzzing around Dame Joan's head, and her expression changed. Unexpected words followed as Joan Collins said:
"Do you believe that little flies or butterflies or something can be old souls, people that you knew? I have this little fly that comes near me all the time. It's really strange."
Read more on our Twitter account @amomama_usa.
Her expression rather serious as Dame Joan continued:
"Who do you think it is? I think it might be my sister."
Jackie Collins died from cancer three years ago, the novelist kept it a secret, even from her sister Joan. Realizing it might sound odd, Joan Collins elaborated:
"I know that sounds weird, and I don't know whether I believe in the afterlife or not. My opinion is still out to lunch about that, but it is weird that wherever I go, at least two or three times a week – wherever I am, France, London, here – this little fly comes."
Laughingly Dame Joan added:
"Now maybe it's because the fruit's rotting in the kitchen! I don't know. But anyway…If it is: Hello Jack."
Despite being diagnosed with cancer seven years before anyone found out, the novelist, Jackie was close to her sister Joan until her death in 2015.
Joan starred in 'The Stud' and 'The Bitch' in the late 1970s during a low point in her career, both of which were film adaptations of her sister's novels.
Well known for her role in 'Dynasty' some might remember Dame Joan as Edith Keeler on Star Trek. It was also in the 1960s that she married Anthony Newley after initially having an affair with Warren Beatty in the late 1950s.
In 1984, Rolling Stone profiled Joan Collins and had one word for her. Fabulous. And rightfully so, she did save the television show, 'Dynasty' after all. Ratings on the primetime soap opera were low during the first season, barely making the top 30 shows according to ratings.
Joan Collin's character got introduced during the show's second season, and ratings jumped into the top 20. Dynasty was the most watched show by its fifth season in the United States.
Sophie from The Guardian continued with the interview and asked Dame Joan more about the fact that Jackie kept her cancer a secret, and enquired if Jackie had told anyone. Joan Collins replied:
"Only her daughters. Thank God she didn't tell me. I mean, I wish she had. But she didn't want pity, and that's what happens – in this town particularly, you know, gossip."
Earlier this year, on August 14, Dame Joan looked magnificent as she shared pictures of herself on Instagram during a night out in West Hollywood for an elegant dinner at Craig's. 85-year-old Joan wore an off the shoulder, shaped ivory dress which she paired with glittering drop earrings as she arrived at the popular celebrity hotspot.
Grandious descriptions of Dame Joan like 'magnificent' and 'fabulous' are to be expected, especially when looking at her wall of shame, as Joan refers to it. Just before her interview with Sophie from The Guardian finished, Joan took the liberty of sharing.
The wall was covered in framed photos of Joan with other famous people, including Ronald Reagan, Margaret Thatcher, and the Queen. There is a handwritten note from Princess Diana where she thanks Dame Joan for sending "her latest edition," and a typed letter from Noel Coward.
Joan Collins is set to tour England in February 2019 with her live show, Unscripted.
Please fill in your e-mail so we can share with you our top stories!