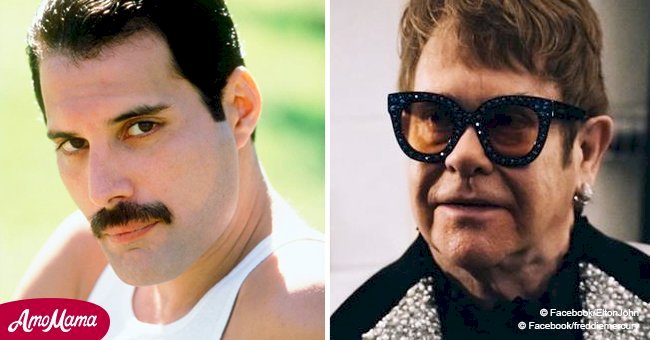 Elton John reveals 'agonising' details of the last few days of Freddie Mercury's life
An extract from Sir Elton John's 2013 book "Love is the Cure: On Life, Loss and the End of Aids," he reveals that he knew Freddie Mercury's final days would be spent in pain. On World Aids Day this year, Elton shared a touching story about Queen's lead singer.
Freddie Mercury was diagnosed with Aids in 1987 but he only made this information public in 1991, the day before he died to be exact. However, when he was diagnosed he told those closest to him, including Elton John.
Despite suffering from the symptoms of the disease Freddie had a positive attitude and placed more importance on helping others and continuing his career as a performer than caring about his personal comfort.
Read more on our Twitter account @amomama_usa.
Freddie Mercury's precise cause of death was Bronchopneumonia, which his body could not fight off due to the symptoms of Aids. In Elton John's book he speaks of the agony he saw Freddie go through in the end days,
"It broke my heart to see this absolute light unto the world ravaged by AIDS."
FREDDIE'S LEGACY
Having AIDS did not keep Freddie down as he tried to maintain as much of his normal life as possible. He recorded an album with Queen called "Made in Heaven," which the band released after Mercury's death.
About a week after Freddie's death Elton was surprised at his door by one of their mutual friends holding a package. It turned out to be a Christmas gift that Freddie had bought him, affectionately calling him by a nickname, Sharon.
The gift was a painting by one of their favorite artists, Henry Scott Tuke. Elton was overwhelmed by emotion at the thought that in his dying days Freddie took the time to find him a Christmas gift.
BOHEMIAN RHAPSODY
Freddie Mercury's legacy lives on in many ways, including the film "Bohemian Rhapsody." Named after Queen's most famous song, the film explores the band's career during Freddie's life and the tragedy of his death.
Rami Malek plays Freddie Mercury, a role which he prepared for under the guidance of a vocal coach. The hours of practice show clearly during his imitation of the iconic Live Aid performance that Queen did in 1985.
The film has received mixed reviews, but it has recently been revealed that it is currently the highest earning biopic in the musical film genre. Queen's music, both on the film's soundtrack and the band's original albums, has returned to the charts.
Please fill in your e-mail so we can share with you our top stories!