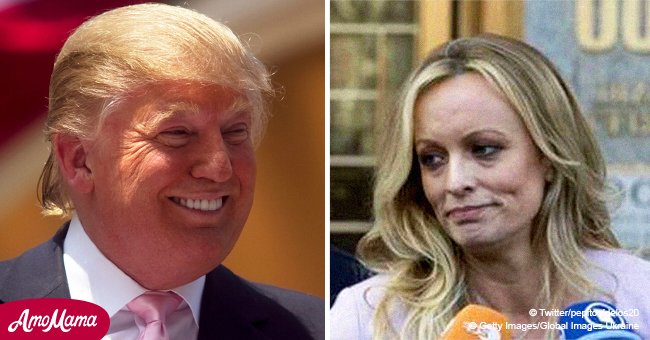 Adult-film actress who filed lawsuit against Trump may have to pay $800K in fees and penalties
Following the dismissal of the 39-year-old adult-film actress Stormy Daniel's defamation lawsuit against President Donald Trump, the latter's attorneys are asking her to pay close to $800.000 in legal fees and penalties.
Attorney Charles Harder, whose firm represented Trump in the case, introduced the request in a court on December 3, and expected to prevent future "frivolous defamation cases" with the measure, according to Fox.
Harder cited the many hours invested and the extraordinary nature of the case as the reason for the high amount of money spent in the defense and had strong words for Daniels. Read more on our Twitter account @amomama_usa
Judge S. Otero is yet to decide whether the requested sanctions will be applied. While he found Harder's fees reasonable, Otero considered the numbers of hours claimed to have been spent on the case excessive.
"This action is virtually unprecedented in American legal history. [Daniels] not only brought a meritless claim for defamation against the sitting president of the United States, but she also has engaged, along with her attorney, in massive national publicity."
-Charles Harder, Fox News, December 4, 2018.
Daniel's Attorney, Michae Avenatti immediately reacted to Harder's pretensions, describing them as "absurd and outrageous."
"You can't just pick a number out of thin air in an effort to put my client under Donald Trump's thumb and intimidate her," Avenatti said.
Daniels, born Stephanie Clifford, sued President Trump earlier this year for defamation after the latter responded to her allegations of having had a one-night affair with him in 2006 with a tweet calling the entire thing a "total con job."
Judge Otero ruled in favor of Trump, describing the words he used against Daniels in the aforementioned post as "rhetorical hyperbole" against a political adversary, and the First Amendment is on the president's side this time.
Avenatti, in turn, announced that he would also request attorney's fees against Trump for the still in progress case of the nondisclosure agreement signed by Daniels and Trump before the 2016 presidential election.
Apart from his personal battle with Trump, Avenatti made it to the news on November 14 when he was arrested over an alleged domestic violence incident, but he was released on the same day.
Avenatti said he was to be "fully exonerated" from the accusations, and he said not to have hard feelings for the Los Angeles Police Department, who, as he said, "had no option in light of the allegations."
He implied that it all might have been an attempt to damage his image to influence in the legal battle against Trump, and identified himself as an "advocate for women's rights."
"I am not going to be intimidated from stopping what I am doing. I am a father to two beautiful, smart daughters. I would never disrespect them by touching a woman inappropriately or striking a woman," Avenatti said.
Please fill in your e-mail so we can share with you our top stories!