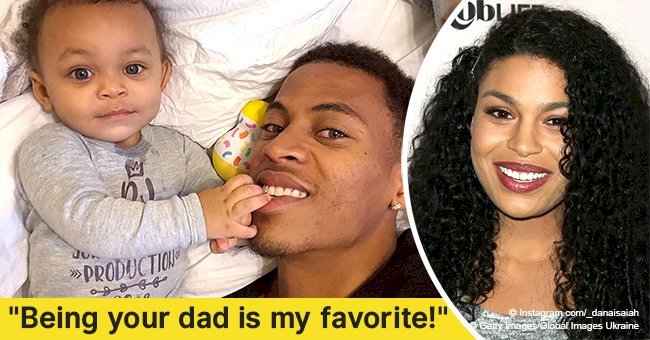 Jordin Sparks' husband melted hearts with sweet photo of their son ahead of his 7-month birthday
Jordin Sparks' husband, Dana Isaiah, shared a cute photo with their son just days before the little man turned seven months old. He also talked about his "lack of sleep" in the caption.
Dana Isaiah Jr., mostly called DJ, is the first for both Sparks and her husband, Isaiah, so it's only expected that they gush over him every second they get, and that's just what the singer's husband did a few days before DJ's seven-month birthday.
Along with a photo of himself and DJ lounging in bed, Isaiah, 26, wrote:
"Being your dad is my favorite! But I think my eyes are permanently bloodshot from lack of sleep #hga #ahighercalling."
Back in September, the first-time dad explained why he chose to share pictures of his son online despite the presence of trolls and cyber bullies on the internet.
"We talked bout whether or not we would hide Lil Dana from the media almost as soon as we found out she was pregnant. And as much as I want to protect him and shield him from the evil trolls of this world. I also want to raise him to be a strong man who can take the jabs people throw and keep it moving."
Sparks and Isaiah, a model, welcomed their son on May 2 at a natural birthing center in Los Angeles.
"Hospitals just felt a little weird and strange [to me]," Sparks, 28, told People Magazine. "I had a feeling I wasn't going to be comfortable on my back, and I didn't want to have to give birth that way."
Isaiah, who said his wife handled the birthing process "like a champ," was also very hands-on and the "No Air" singer revealed he was the one that caught their son.
The new parents experienced a scare when DJ came out with the umbilical cord wrapped around his neck, but thankfully, they had a midwife who handled the situation.
Since then, it's been bliss and magic for the young family-of-three. The "American Idol" alum and Isaiah secretly tied the knot in July 2017 after their respective moms introduced them. Isaiah's mom was hoping Sparks could talk her son out of moving to L.A, but obviously, fate had a different plan altogether.
"A couple days after we had actually met, I was like in my head 'That's going to be my husband! That's my husband right there,'" Sparks admitted last year, adding:
"When I'm with him, I feel comfort and safety and calm and peace, and those aren't things that I normally felt. So it was a little wake-up call for me."
Please fill in your e-mail so we can share with you our top stories!