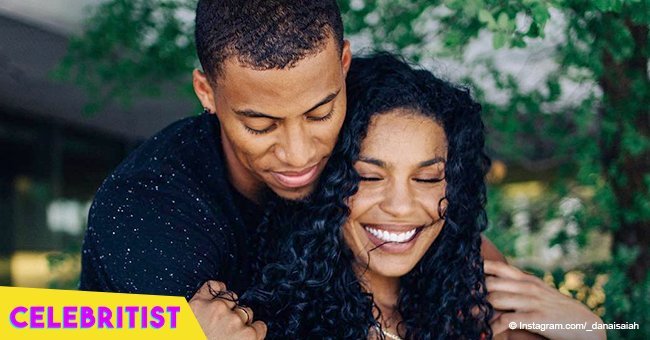 Jordin Sparks and husband Dana Isaiah reveal why they share son's pictures online
In today's world of online trolls and cyber bullies, many celebrities keep their little ones away from social media as much as possible. Singer, Jordin Sparks, and her husband, Dana Isaiah Thomas, have however chosen to do the exact opposite, and their reason is quite inspiring.
Taking to Instagram, Dana shared a close-up photo of their son, DJ's, cute face, and accompanied it with a stirring message revealing the struggles that come with being in the spotlight. He wrote:
"Being in the spotlight can be tough. Marrying into the spotlight and raising a kid can be even tougher. It's funny cause everyone has their opinion and behind their phone/computer everybody will voice it (good or bad)."
Dana, who was there to catch their son as Sparks pushed him out at birth, disclosed that he and his wife considered their options before DJ was born:
"We talked bout whether or not we would hide Lil Dana from the media almost as soon as we found out she was pregnant. And as much as I want to protect him and shield him from the evil trolls of this world. I also want to raise him to be a strong man who can take the jabs people throw and keep it moving."
The fitness model explained how he planned to exhibit the right qualities for DJ to emulate despite the amount of negativity found on the internet:
"As a parent and as a man I have to watch how I move and respond to people, because he will follow my every move. No more feeding into the negative nonsense. Instead of feeding into the hate I will always teach him to love. When they go low we go high."
Words of wisdom, inspiring all to do better, concluded the message:
"Surround your kid, family, and yourself with love and encouragement because it's not much out there in the world. Be the change you want to see. Be the role model you would want your kids to mold their lives after. Do better. Be better. #kingdombuilder"
Sparks and her husband tied the knot in July last year but did not make it public till November when the "No Air" singer was already expecting their child.
The lovebirds welcomed Dana Isaiah Thomas Jr. on May 2 at a natural birthing center in Los Angeles.
Back in May, Sparks gushed over her now three-month-old tot:
"It's different. Oddly enough he made me sing better. I was able to hit notes that I didn't think that I could. I wasn't expecting at all. [But] the love is different than anything that I have [ever felt]. I don't even know how to explain it. I can't."
Please fill in your e-mail so we can share with you our top stories!