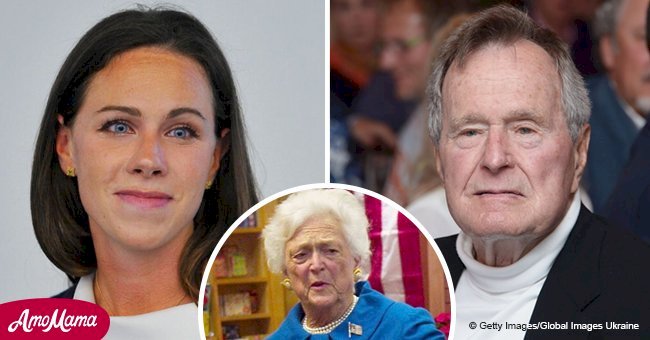 George H.W. Bush's granddaughter Barbara reveals her guess why he passed away now
The passing of former president George H.W. Bush on Friday had family, friends and former peers in politics nostalgic as they came to grips with the passing of a great man.
As the family that George and Barbara Bush built together prepare to lay him to rest on Thursday, they shared treasured memories of time spent with the former 94-year-old George H.W. Bush.
The late president's son and fellow former President George W. Bush's one twin daughter, Laura, shared pictures of her and her sister, also named Barbara, with their grandfather on Instagram.
Read more on our Twitter account @amomama_usa.
Her father, former president George W. Bush shared his feelings on Instagram with a picture he has of his parents, George H.W. and Barbara Bush walking to Air Force One with a tribute captioned that read:
"Jeb, Neil, Marvin, Doro, and I are saddened to announce that after 94 remarkable years, our dear Dad has died. George H. W. Bush was a man of the highest character and the best dad a son or daughter could ask for. The entire Bush family is deeply grateful for 41's life and love, for the compassion of those who have cared and prayed for Dad, and the condolences of our friends and fellow citizens."
As a tribute, the other twin granddaughter, 37-year-old Jenna wrote in an emotional post:
"Waking up missing this giant of a man who gave me everything. He taught my family and me about service, family, decency, the power of gentle words and a beautiful heart. I will miss him desperately but so happy he and my Grandmother are back together."
Granddaughter, Barbara Pierce Bush got emotional during a new interview with PEOPLE when she said:
"He was so present in our lives. Because he was also the president of the United States, I don't think we quite realized the gravity of the responsibility that he was holding. I have so many memories of him because we were with him so often. We spent every summer with him since we were born, regardless of what role he was in politically."
But the 37-year-old Barbara also spoke of the reason why she thinks her grandfather passed away when he did as she continued:
"He'd never spent a Christmas without my grandmother. He was ready to be with her again. He never said it, but my thought is that he wanted to be with her for the holiday."
Her grandfather, the late former president hosted her wedding to screenwriter Craig Coyne on October 7 at the family's summer home in Kennebunkport, Maine.
Former president Bush insisted on going back to their home in Maine after a summer hospitalization and the death of their grandmother. He refused to stay in the hospital and wanted to be home in the place he shared with his beloved late wife during his last months.
Michelle Obama, with whom the former president had a special connection, always had a laugh whenever they were together. The former First Lady postponed several of her scheduled visits during her book tour to attend the funeral of the former president George H.W. Bush.
Upcoming visits to cities such as Paris and Berlin for her book tour had to be rearranged, and Michelle announced on Twitter in the hopes that the fans would understand as she said:
"It's important to me to join the Bush family in celebrating President George H.W. Bush's exemplary life. This will, unfortunately, preclude my visits to Paris and Berlin. I've been deeply touched by the enthusiasm for my memoir, and I'm working to reschedule my trip for next year."
The public got given the opportunity to pay their respects to the late George H.W. Bush from Monday to Wednesday morning, during which he lied in state at the U.S. Capitol Rotunda, Washington.
The state funeral got set for 11 am on December 5, while the second will take place on Thursday at 10 am at St. Martin's Episcopal Chruch.
Please fill in your e-mail so we can share with you our top stories!