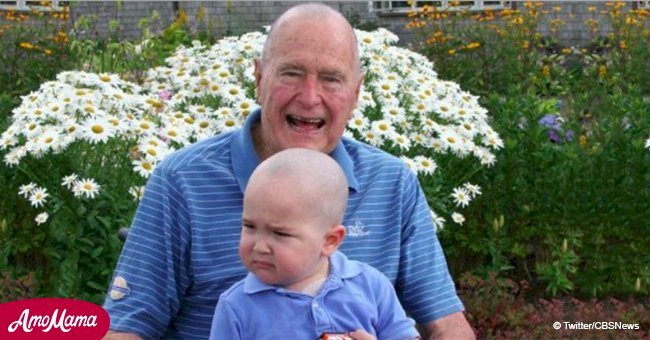 Touching story behind the photo of a shaved George H.W. Bush and a Secret Service agent's son

The Secret Service shared a special memory of George H.W. Bush in commemoration of his death. It speaks to the character of the man who left behind honorable work.
In 2013, the former president joined his team in doing something bold for a young boy who was diagnosed with leukemia. The picture is found below.
The boy, then two, was the son of a secret service agent. The entire team decided to shave their heads to show the young boy support.
"In classic 41 manner," Bush shaved his head too. He took a picture with young Patrick as he sat on his lap.
Follow us on Twitter for more @amomama.
The Secret Service tweeted the heartwarming photo. They captioned it:
"Everyone's #TuesdayThoughts are on President Bush & we wanted to share a memory. In '13, Timberwolf learned that the 2-year-old son of an agent on his detail was diagnosed with leukemia & the detail was going to shave their heads. You can see what happened, in classic 41 manner."
After three years, Bush himself tweeted an updated photo of the young boy. He shared both the old photo and a new one. Patrick stood next to him and the two smiled in the picture.
Bush wrote:
"Incredible #thankful that my friend Patrick, the courageous young man (with hair!) to my left, is feeling and doing much better these days."
Bush was plagued with his own heartbreaking experience of having a daughter who had died from leukemia in 1953. Pauline Robinson, called "Robin," was only three when she passed.
Born five days before Christmas, Robin was Bush's second child and eldest daughter. Upon her death, the president began writing letters that expressed his love and sorrow for his lost daughter.
One of them read:
"We need some starched crisp frocks to go with all our torn-kneed blue jeans and helmets. We need some soft blond hair to offset those crew cuts. We need a doll house to stand firm against our forts and rackets and thousand baseball cards..."
It continued:
"We need a little one who can kiss without leaving egg or jam or gum. We need a girl. We had one once. She'd fight and cry and play and make her way just like the rest but there was about her a certain softness. She was patient. Her hugs were just a little less wiggly."
Robin's body was donated to science, but her father's will still be buried near her grave. Bush's other children remain to mourn their father, who passed at 94.
After his death on Friday, the children shared words of tribute and prayer. George W Bush called his father "a man of the highest character" on Instagram.
Jeb Bush used Twitter to express his loss, saying "I already miss the greatest human being that I will ever know. Love you Dad!"
A state funeral will be held on Wednesday at the National Cathedral in Washington, DC. President Donald Trump declared that flags will be lowered to half-staff for 30 days in Bush's honor.
Please fill in your e-mail so we can share with you our top stories!