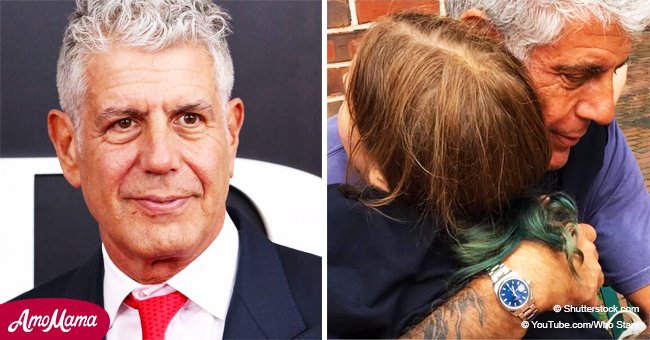 Anthony Bourdain's friend recalls how chef's young daughter reacted to her father's death
Six months after Anthony Bourdain suicide, the celebrity chef's family is still struggling to come to terms with the tragedy.
It's been six months since Anthony Bourdain died by suicide, and those closest to him are still coming to grips with the enormity of that loss.
GQ Magazine published a revealing article on December 4, 2018, about how Bourdain's nearest and dearest are dealing with tragedy and their bitter-sweet memories.
BOURDAIN'S PASSING CHANGED LIVES
The death of a close friend or relative by suicide is something that shakes people to the core, forces them to reevaluate their lives.
A suicide's friends and family will always ask themselves if they could have done something different, or something more.
BOURDAIN'S DAUGHTER'S GRIEF
Perhaps the most deeply affected by the tragedy is Ariane, Bourdaine's daughter by mixed martial artist Ottavia Busia. One of Bourdain's closest friends, Big Gay Ice Cream co-owner Doug Quint, opened up about the 11-year-old's heartbreaking reaction to her father's death:
"That day, Ariane said to me something like, 'Is this something that people outside of New York are gonna know about?' " Quint continued. "And we were like, 'Yeah. All around the world, people are sad about this."
Perhaps the most deeply affected by the tragedy is Ariane, Bourdaine's daughter by mixed martial artist Ottavia Busia.
BOURDAIN'S WILL LEAVES EVERYTHING TO ARIANE
Bourdain died in France while filming his CNN show "Parts Unknown" before his divorce from Busia, 53, was finalized.
"My wife and I live, have lived, very separate lives for years. There's no drama here. We get along really, really well and it's not a big lifestyle change happening here."
Anthony Bourdain
Bourdain's will, which was written in 2016 leaves most of his assets to Ariane, and names Busia as the executor of his estate until their daughter's majority.
Read more on Twitter Amomama USA.
ANTHONY BOURDAIN'S SUICIDE SHOCKED THE WORLD
On the 8th of June 2018, the death of the iconic Chef and television personality Anthony Bourdain was announced to a disbelieving world.
Bourdain, 61, was found dead in his room in the Le Chambard hotel in Kaysersberg by his close friend and fellow chef Eric Ripert. Bourdain was in the hotel shooting a new episode of his series, "Parts Unknown".
Ripert entered the hotel room when Bourdain failed to respond and found his friend dead. The celebrity chef had hung himself with his bathrobe belt, French authorities revealed.
According to the reports of the local Coroner, no signs of violence were present on his body, and results of the toxicology exams were negative for narcotics
Please fill in your e-mail so we can share with you our top stories!