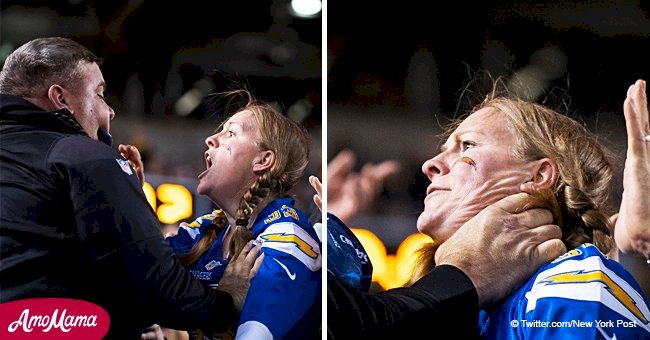 Female 'Chargers' fan choked during an altercation with a large male 'Steelers' fan

The Steelers' loss to the Chargers on Sunday night turned ugly in the stands at Heinz Field. A Steelers fan choked a pregnant Chargers fan.
A Steelers fan choked a pregnant Chargers fan during the game on Sunday night after the Steelers' loss. Two men began fighting in the stands.
The pregnant lady tried to step in. Instead, she was grabbed in the throat by the Steelers fan and choked.
Photos from the night showed the couple from San Diego. Witnesses said the Steelers fan yelled at them to sit down during the game.
His yelling eventually sparked the fight. Daniel Minshew, the husband of the pregnant woman, said he intends to file criminal charges.
"We strive to make events at Heinz Field safe for our guests. This type of behavior seen in the photo is unacceptable and something we do not condone on our property. We are working with Heinz Field security as well as local authorities to gather more information on this particular incident as the Pittsburgh Police determines whether or not to press charges, and we will ensure those involved as the aggressors will not be permitted back into our stadium." said the Steelers spokesperson in a statement.
The pregnant woman's husband, however, pointed out that his pregnant wife had been subjected to verbal and physical abuse the entire evening. He went on to say that security failed to address the assault both before and after the physical attack.
Minshew and his wife are from the San Diego area. They travel a few times a year for Chargers away games.
They've never had a problem at a game before. Photographer Shelley Lipton captured a photo of the much larger Steelers fan grabbing Minshew's wife in a Chargers jersey around the throat.
Lipton corroborated their story. She said the larger Steelers fan attacked a man wearing a Chargers jersey which Minshew regularly wore to games. Lipton saw the woman, who we now know is pregnant, try to intervene to protect her husband.
She didn't notice that the Steelers' fan grabbed her around the throat until she processed the photo. She said he was at least twice her size.
Please fill in your e-mail so we can share with you our top stories!