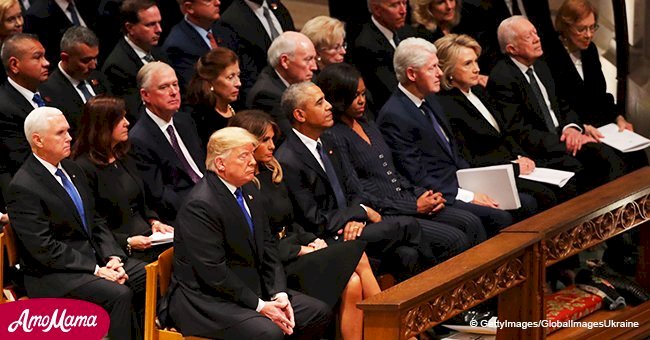 Unique photo shows five living presidents and their ladies at the funeral of George H.W. Bush

During the memorial service for the late president George H.W. Bush Sr, we witnessed a rare instance of five living presidents in the same room.
As the former dignitaries paid their dues, the media took note of how few and far between such an arrangement happens. Let's see who was present altogether.
In attendance was current President Donald Trump, former presidents Barack Obama, Bill Clinton, and Jimmy Carter. The deceased's son and former president George W Bush was also present and paid tribute to his father.
Follow us on Twitter for more @amomama.
First Lady Melania Trump sat beside her husband. She was joined by former first ladies Michelle Obama, Hillary Clinton, Rosalynn Carter, and Laura Bush.
Bush Sr passed away on Friday, November 30. He was 94 when he died. The 41st president left behind children Jeb Bush, Neil Bush, Marvin Bush, and Dorothy Bush Koch who were also present at the service.
Vice President Mike Pence along with four other former vice presidents took their place at the occasion. Of course, Bush Sr's service dog Sully also formidably attended.
Bush Jr gave a moving eulogy at the memorial and remembered a quirk of his beloved father. The senior took "great delight" when a friend sneaked some vodka into the hospital room he occupied.
He also shared with the audience some advice his father left for him and recalled some adventures even at an older age.
Bush Jr said:
"At age 85, a favorite pastime of George HW Bush was firing up his boat, The Fidelity, and opening up the three 300-power engines to fly across the Atlantic with the Secret Service boats straining to keep up. At age 90, George H W Bush parachuted out of an aircraft and landed on the grounds of St Ann's [Church] by the sea in Kennebunkport, Maine."
He added:
"In victory he shared credit. When he lost he shouldered the blame. He accepted that failure is part of living a full life, but taught us never to be defined by failure. He loved to laugh, especially at himself. He could tease and needle but never out of malice."
Amid the grief, the former presidents and their wives appeared to emanate tension as well. Things got particularly awkward between former presidential candidate Hillary and the current president.
While everyone else exchanged handshakes, the two opposing political figures did not. In fact, Hillary's resolute stare straight ahead seemed to convey an intentional avoidance.
Not once did the two look at each other or acknowledge one another. The behavior was not surprising as Donald continuously voices his opposition to the Clintons' time in power.
Furthermore, Hillary experienced a bitter loss in the 2016 elections against Trump. The two were last this close to each other at Trump's inauguration.
Regardless, they respectfully came together to honor the late President. That's what matters in this instance. We send condolences to the family of the deceased.
Please fill in your e-mail so we can share with you our top stories!