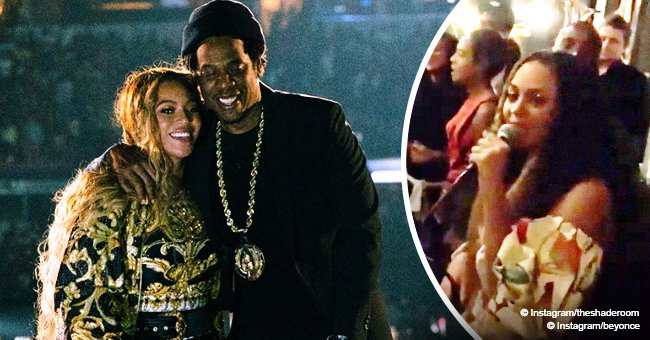 Beyoncé leads crowd in singing 'Happy Birthday' to husband Jay-Z on his 49th birthday

For Jay-Z's 49th birthday, Beyonce led the crowd in singing the "Happy Birthday" song in Johannesburg, South Africa. Video footage from the special night showed just how much love the singer has for her husband, who lovingly sang the song with a smile on her face.
After the Carters performed at a charity concert meant to honor Nelson Mandela a century after he was born, the couple decided to have a change in scenery and celebrate Jay-Z's birthday there as well. The video, posted by Nkosinathi Innocent Maphumulo, a famous South African DJ who is known as "Black Coffee", has gone viral and reached the couple's fans.
Wearing an off-shoulder printed top, Beyonce was seen holding a microphone as she sang the song in the middle of a crowd, presumably the couple's select friends. As the camera turns, Jay-Z could be seen for a moment, wearing a yellow jacket with his arm around a friend, with a huge thankful smile on his face as he looked over to his loving wife.
Jay turned 49-years-old on December 4, and people at the party were extremely grateful to have been given the chance to celebrate his birthday with him.
Black Coffee even captioned the video with "grateful", adding several praying hand emojis and "#TheCarters".
It seems the DJ was not the only one who was given the honor to enter the couple's tight circle, as his wife, Enhle Mbali Maphumulo, put together a stunning costume for Beyonce during her performance at the Nelson Mandela concert last Sunday.
Of course, those close to the couple but were not able to attend the party in South Africa such as Tina Lawson shared sweet birthday messages for the rapper on social media.
"A very Happy Birthday to my amazingly talented, super smart, gracious, classy, filled with swag son in law. I have witnessed your loyalty to all of your friends, some from childhood if only we could all be so supportive of our friends and share a mutual love and respect for each other like you and your amazing friends."
Of course, Lawson also made sure to point out all that her son-in-law has done for humanity with his wife, as they continue to share their empire to the rest of the world.
"You have done so much for our Culture, Thank you for that! I could not be more happy to have you in my family and could not be more happy to be in yours. I have watched you grow personally in leaps and bounds and you are an incredible husband and the best Father. I love you."
In the end, the couple seemed to have had a blast during the party, even though some of the most special people in their lives were visibly absent, such as their three children, Blue Ivy, Sir, and Rumi.
Please fill in your e-mail so we can share with you our top stories!