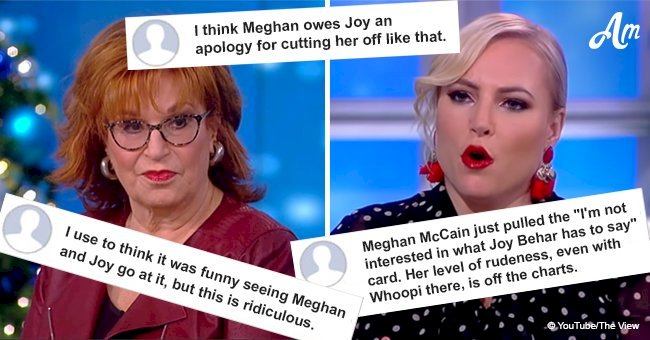 Viewers pounce on Meghan McCain after she rudely interrupts 'The View' cohost Joy Behar
In a recent episode of "The View" the panelists held a discussion about the presidency of the late George H.W. Bush. This quickly turned into a nasty debate between the two of them.
Joy Behar, who recently celebrated 20 years on "The View," spoke about the positive impact that George Bush senior had on the environment.
She then contrasted this with President Trump's administration, which she believes is doing more bad than good. This was met with contempt by her fellow panelist, Meghan McCain.
Read more on our Twitter account @amomama_usa.
JOY VS MEGHAN
Speaking about George H.W. Bush in relation to President Trump Joy said,
"He [President George H.W. Bush] signed into law the Clean Air Act amendment of 1990, one of the most sweeping environmental statutes ever. This president that we have now is trying to unravel everything that he did, and Obama did."
Meghan did not take kindly to this and requested that the panel stop talking about Trump, as she felt that the episode should rather focus on the late former president.
THE EPISODE
The other panelists, Whoopi Goldberg, and Abby Huntsman discussed George Bush senior's legacy by describing him as a well-humored and kind man.
Whoopi also highlighted his abilities at dealing with the media despite the negative comments they would give him. Although it was noted during the discussion that all heads of state face media scrutiny.
Views of the show took to social media to express their opinions about the episode. Reviews were mixed with some supporting Behar and others being in favor of McCain's view.
However, during Trump's presidency thus far both Behar and McCain have criticized his actions and statements.
Please fill in your e-mail so we can share with you our top stories!