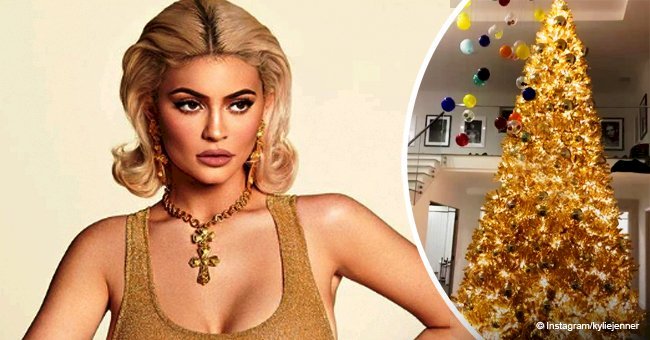 Kylie Jenner slammed after showing off her massive 20-ft gold Christmas tree in new video
Kylie Jenner proudly reveals her massive golden Christmas tree but is criticized for her extravagant choice.
Kylie Jenner has a golden Christmas tree. The multi-millionaire shared a glimpse of the massive decoration when she posted a clip revealing its opulent details. This will be Kylie's first year to be spending the holidays as a mother and no doubt she wanted it to be extra special.
"Gold is the theme this year" the young mother of Stormi wrote as she panned her camera admiring the "Christmas magic" standing in her home. It was ceiling-high with shiny gold leaves and golden balls and lights adorning it.
As wonderful as her tree looked, some were quick to judge the reality star for her outrageous purchase. They slammed her for splurging when the money could be put to better use.
"Imagine how many families you could feed with the money used to buy the materialistic things for Christmas,"a commenter reminded the star.
Fans of Kylie, though, defended her right to spend her money the way she pleases. After all, she was hailed this year as one of the 60 Richest Self-Made Women by Forbes Magazine. If she chooses to spend her hard-earned money on something that will make her happy, that's her decision.
MORE TREES IN HER HOME
Kylie also revealed in a separate Instagram Story that she has several other trees in her home. She mentions having a neon pink one in her bedroom and trees everywhere else.
PAST CHRISTMAS TREES
Last year, Kylie also went big for her tree courtesy of Jeff Leatham, the same man behind her golden tree. 2017's motif was shades of pink, most likely in anticipation of the birth of her daughter, who, at the time was a carefully kept secret. In 2016, her tree was white with silver accents. She made it appear like it was covered with a blanket of snow.
THE MOST MEANINGFUL TREE OF ALL
Kylie's latest tree seems to be the most extravagant of them all. It may also be a reflection of how she's feeling. It was a pretty good year for the star who welcomed her first child with Travis Scott. The two are in a solid point in their relationship, unwavering in their support for each other and often calling each other husband and wife. They even sparked rumors of an engagement and even a secret wedding with their constant displays of affection.
Kylie's Christmas is certainly golden, much like the life she's leading today.
Please fill in your e-mail so we can share with you our top stories!