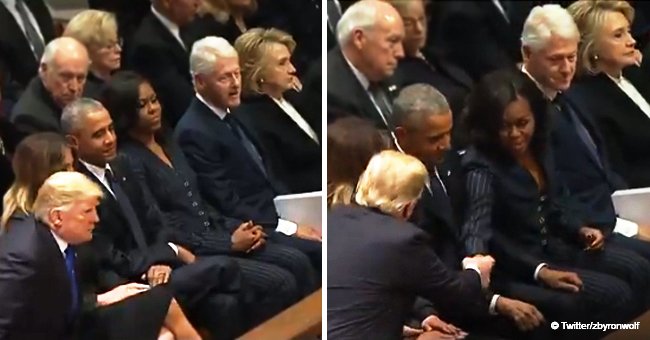 Hillary Clinton reportedly ignores President Trump at George H. W. Bush's funeral
Hillary Clinton reportedly refused to look President Trump's way when he and Melania arrived at George H. W. Bush's funeral. Instead, she kept her gaze fixated at the front of the cathedral.
President Donald Trump and his First Lady Melania made a grand entrance at the Washington National Cathedral last Wednesday, as the "celebration of life" ceremony started to honor the life of late president George H. W. Bush.
With their seats located at the very front beside the other living presidents and first ladies, Donald and Melania walked in the church's main aisle towards their seats, while everyone else was already there. As they reached their pew, they greeted those closest to them, which happened to be Barack and Michelle Obama.
As seen in the live broadcast of the ceremony that was viewed by thousands all over the world, Melania was the first to greet the Obamas, shaking their hands in the process. After realizing that his wife had done that, Donald decided to do the same and shook the hands of both Barack and Michelle who greeted him with a casual "Morning."
Meanwhile, Bill Clinton just amusingly looked as the two of them sat down, while Hillary did not acknowledge their presence at all.
The death of former President Bush came just months after he was diagnosed with an infection that spread to his blood. He was rushed to the hospital a day after his wife passed away, and it is clear that his condition continued to decline since then.
He was placed in the Intensive Care Unit after he suffered from sepsis, which is a life-threatening condition caused by the infection.
George's condition needed hospital treatment just a day after his wife, Barbara Bush, passed away on April 17, 2018. She was diagnosed with Graves' disease in 1988 before suffering from congestive heart failure later on. In the end, Barbara passed away due to chronic obstructive pulmonary disease (COPD).
Now, the former President may finally rest in peace with his beloved wife. The couple left behind six children, particularly former President George W. Bush, Jeb Bush, Pauline Robinson Bush, Neil Bush, Dorothy Bush Koch, and Marvin Bush.
Please fill in your e-mail so we can share with you our top stories!