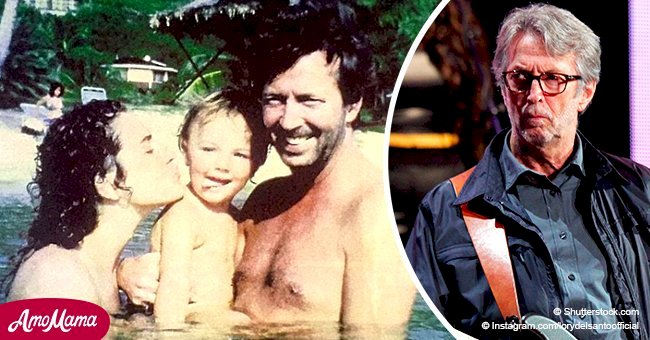 The tragic story behind Eric Clapton's song 'Tears in Heaven'
Grammy Award-winning singer-songwriter Eric Clapton has been part of many musical projects including his solo career. His song "Tears in Heaven" is probably one of his most famous tracks, but not everyone knows the meaning behind it.
Clapton lost his four-year-old son in 1991 when he fell to his death out of a window of their 50th-floor apartment. This incident deeply affected him, and he became a hermit for months on end.
What eventually got him out of this state was needing to write the soundtrack for the film "Rush." He then asked Will Jennings, a songwriter, to assist him in writing "Tears in Heaven."
Read more on our Twitter account @amomama_usa.
PERFORMANCE OF THE SONG
In 1992 "Tears in Heaven" ended up being the second highest position on Billboard's Hot 100 singles chart. The following year the song earned Clapton a Grammy Award for Song of the Year.
Despite the success that the song brought him, Clapton stopped performing the song at his concerts because he says that he used it for therapeutic purposes, which he no longer needs.
However, there are many recorded versions of "Tears in Heaven" which fans can listen to. The lyrics are quite emotional and touching:
"Would you know my nameIf I saw you in heaven?Would it be the sameIf I saw you in heaven?I must be strong and carry on'Cause I know I don't belong here in heaven."
OTHER MEANINGS BEHIND SONGS
Lyrics are not just randomly thrown together. Often they have deeper meanings behind them. One such song is "19th Amendment" by Dolly Parton. In the single, she is advocating for women's rights.
Ed Sheeran's latest album features a song called "Supermarket Flowers" which holds a special meaning for him. The song was written while his grandmother was terminally ill and performed for the first time during her funeral service.
Another song with a deep meaning is "Wrecking Ball" by Miley Cyrus. The track centers on the songwriter, MoZella's unhealthy relationship and her futile attempts to fix it. Miley related to the lyrics and decided to record it.
Please fill in your e-mail so we can share with you our top stories!