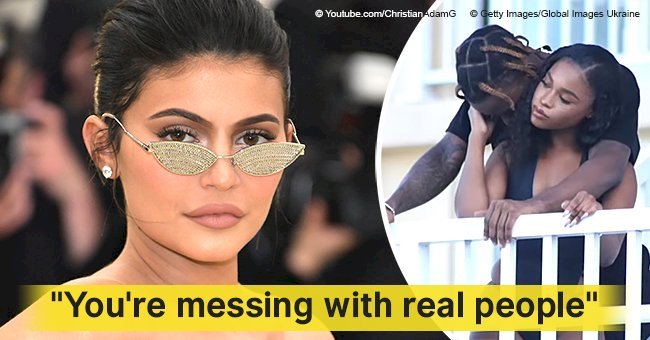 Kylie Jenner blasts Travis Scott impersonator who staged fake cheating photo of the rapper
Kylie Jenner had some choice words for the impersonator who staged pictures that looked like her partner, Travis Scott, was cheating. The reality star was also backed up by her famous sisters.
Three days after photos emerged of Scott allegedly cheating on Jenner who he calls his wife, Christian Adam, a lookalike from the Bahamas, came forward to reveal that it was a hoax. In a video shared by The Shade Room, Adam can be heard saying:
"That photo you seen with Travis Scott allegedly cheating on his significant other, Kylie Jenner, was completely staged and we were the ones to do it. The goal of this video was not to hurt anyone's relationship but to see how gullible the internet is."
The clip further shows the process of Adam dressing up like the "Astroworld" rapper and dying his hair to look like Scott's.
The incriminating photos nearly broke the internet on Monday around the same time Jenner and Scott were celebrating his single and album hitting the Number 1 spot on the Billboard Hot 100 Chart and Billboard 200 chart respectively.
Scott, 26, was forced to respond to the cheating rumors, insisting:
"I don't be on balcony wit no thots. That [expletive] lame. Try again u trollssss. Me and my wifey sturdy. Back to celebrating!!!"
After seeing Adam's confession video, the rapper simply commented:
"Shaking my [expletive] head."
21-year-old Jenner, on the other hand, had a more emotional response to the silly prank. "I don't know if this is really a social experiment to some people, but you're messing with real people, real relationships, real family," the cosmetic mogul said, adding:
"I'm happy my relationship is strong because this is getting out of hand. The internet scares me sometimes. For real."
Jenner and Scott, whose real name is Jacques Webster, are parents to a 10-month-old daughter, Stormi Webster.
Jenner's famous big sisters, Kim and Khloe Kardashian, also came to her defense and slammed perpetrators of the "mind games."
Kim tweeted:
"I hate that I am bringing attention to this but this is absolutely disgusting that you would find this funny to mess with Travis & Kylie who just started a family together. This is really damaging to relationships, families and is just so wrong!"
Khloe also sent out a tweet of her own:
"People are absolutely disgusting! The mind games this would do to somebody… That is so completely not OK! This person should be so ashamed of themselves! What filth."
We agree with Jenner. The internet can be a scary place sometimes.
Please fill in your e-mail so we can share with you our top stories!