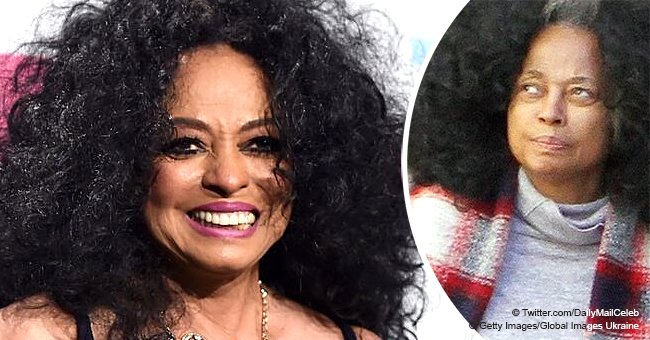 Diana Ross, 74, flaunts her makeup-free beauty in plaid coat and UGG boots in Los Angeles

Legendary singer Diana Ross was spotted at a movie studio in Los Angeles wearing no makeup, proving that she is beautiful in every possible way.
In the video that Daily Mail shared, the "Endless Love" singer appeared next to three other people wearing a long plaid shirt, black leggings, and UGG boots. On their way out of the studio, Diana noticed that someone was videotaping them, so she put on black sunglasses.
One of the aspects that attracted more attention was that, even though the singer had no makeup on and her hair was let loose, she looked as gorgeous as ever. At the moment, the reason for Diana's visit to that studio has not been revealed.
SINGING AT THE MACY'S THANKSGIVING PARADE
That outing took place a couple of days after she and her family took part in the 92nd annual Macy's Thanksgiving Parade in New York City. Diana's children and grandchildren, including Tracee Ellis, Evan, and daughter-in-law Ashlee Simpson, joined the singer.
Every member of her family wore white winter ensembles to get protection from the record-low temperatures in the parade, a fact that didn't prevent them from having a great time.
The thing that attracted more attention to her presentation was that, unlike the rest of the artists who performed, she didn't lip-synch to "Simply Having A Wonderful Christmas Time." Instead, she emphatically sang the words without even using a mic.
INVITING HER FAMILY ONSTAGE
It was not the first time that Diana invites her family to her shows. During her presentations in Las Vegas, the "Ain't No Mountain High Enough" singer invited her song Evan and grandson Raif to the stage.
Even though Raif is only nine years old, he has proven a couple of times already that he is not afraid of the cameras and that he is the rightful grandchild of one of the greatest artists in the world.
Rhonda Ross, the boy's mother, shared on Instagram two clips from the moment Raif took the mic to boast his French before breaking into a special dance performance with his cousin Anyla, who is probably a relative from his father's side of the family.
Diana tried to mimic the kids but failed. However, she kept a huge smile the entire time, encouraging her grandson as he delighted the audience with his charming personality.
In the second clip, Raif tells the audience that he's studying four languages: English, French, Spanish and Chinese, and even explains that, although Chinese was tricky at first, once you get the grip of it is easier, earning a laugh from the impressed audience. The boy has a bright future ahead.
Please fill in your e-mail so we can share with you our top stories!