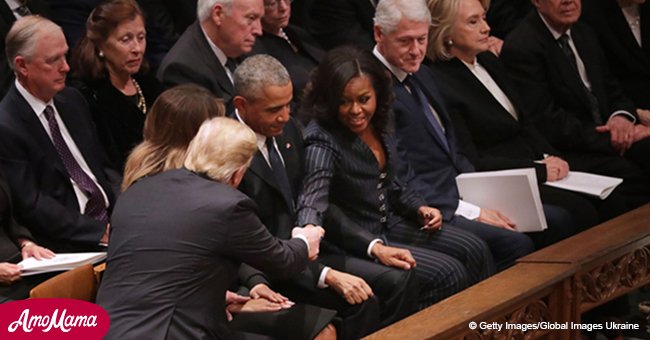 Trumps and Obamas first meeting since inauguration results in awkward greeting at Bush's funeral

Donald and Melania Trump attended George H. W. Bush's funeral and sat right next to the former family occupying the White House - the Obamas.
The President of the U.S. and the First Lady took their seats next to the Barack and Michelle Obama at the Washington National Cathedral, but they weren't alone
As reported by CNN, Trump greeted the Obamas with a handshake but completely ignored Bill and Hillary Clinton, who were sitting nearby.
Follow us on our Twitter account @amomama_usa to learn more.
HILLARY'S DEATH STARE
As she moved into the pew, Melania shook former President Clinton's hand and waved at Hillary, who didn't seem very happy about the encounter.
In fact, after Melania's gesture, the cameras captured the former secretary of state's reaction, a seemingly annoyed nod followed by a perfectly still posture.
The whole situation was quite awkward, as Trump seemed to exchange a few words with Former President Obama while shaking his hand, leaving both Clintons out of his attention circle.
But the encounter was to be expected: after all, it is customary for both current and past presidents, along with their spouses, to sit in the front row at the cathedral during funeral services.
JIMMY CARTER WAS CAUGHT IN THE MIX
Viewers were not indifferent to the tension in the air and took to Twitter to share their take on it. Will Tooke, a Twitter user, even noticed former President Jimmy Carter's side eye as Trump was shaking Michelle's hand.
Another user, Sylvia Obell, described the funeral seating as 'more stressful than a Love & Hip Hop reunion' as she posted an awkward photo of the cathedral's front row.
HONORING PRESIDENT BUSH
But Twitter users didn't just focus on the negative portion of the ceremony: some of them paid tribute to the late 94-year-old President by sharing pictures of colorful socks, something that he thoroughly enjoyed wearing.
Bush's love for quirky socks was very well-known and that love blossomed when he started to rely on wheelchairs and scooters to move around, which left his ankles exposed.
Please fill in your e-mail so we can share with you our top stories!