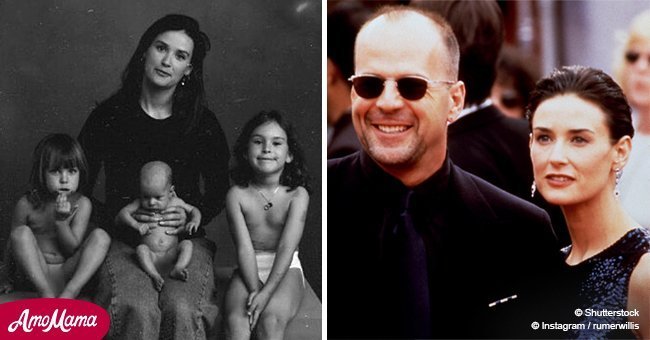 Demi Moore's daughters are grown up and they look just like their famous mom
Almost every photo showing the actress and her three daughters make people notice just how much the young ladies look like their mother.
Rumer Willis, the 30-year-old daughter of Demi Moore and Bruce Willis, has posted pictures on Instagram that shows off the striking resemblance between Demi and her girls.
Demi's daughters are Rumer, 27-year-old Scout LaRue, and 24-year-old Tallulah Belle. The actress had all of them during her long-lasting marriage with Bruce.
The ladies might have their famous father's surname, but it's clear whose genes they inherited just by looking at their faces. With their dark tresses and high cheekbones, they are cleary Demi's children.
Rumer, especially, looks so much like Demi did back in 1996 when she starred in "The Juror" alongside Alec Baldwin. The resemblance is so uncanny that a quick glance alone might have a viewer confusing Rumer with her mother.
Not everyone sees the resemblance, with plenty taking to social media to point out that only her oldest daughter looks like her.
Demi and her daughters have been through thick and thin together, and have come out stronger on the other side. The famous actress revealed that her daughters endured endless scrutiny and criticism when she and Bruce divorced in 2000.
The ex-couple's divorce quickly became high profile given their standing in Hollywood. Their daughters were 12, nine, and six at the time, and they blamed Demi for the divorce. They felt that both parents spent more time on their careers than with their family.
Demi has opened up about the struggles her daughters had to face during her divorce from Bruce. She labeled it "tabloid bullying" and said no teenager should be subjected to that.
"The tabloid bullying all three of my children have experienced, especially in their teens, has truly been painful," she said. "No child should be subjected to that type of judgment or criticism, especially based on their looks... As a parent, all you can do is love them and keep loving them until they love themselves."
Bruce and Demi tied the knot in 1987 and were together for 13 years before calling it quits. The actor went on to marry Emma Heming and has two daughters with her, while Demi married Ashton Kutcher in 2005, from whom she later split in 2013.
Things took a turn for the worse for Demi, and she suffered a breakdown. She partied excessively, another thing that didn't sit well with her daughters.
Their relationship might have been strained in the past, but they seem to have been able to mend bridges to build a strong bond as the girls have reached adulthood.
Please fill in your e-mail so we can share with you our top stories!