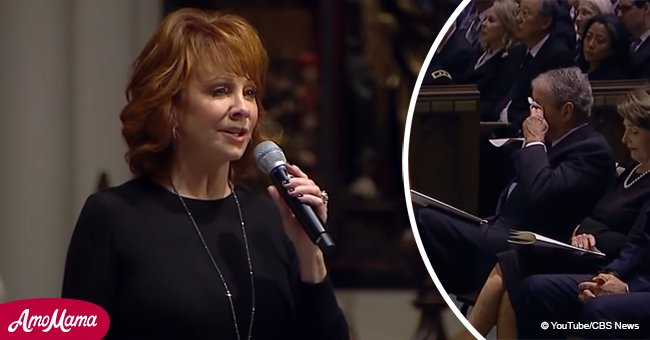 George W. Bush reduced to tears as Reba McEntire sings at his father's funeral
On Thursday, a funeral was held for former President George H.W Bush in Houston, Texas. Music was a big part of the service.
Country singer Reba McEntire performed "The Lord's Prayer" to the mourners in a moving rendition. The 41st president's son was truly moved by the rendition.
As Reba McEntire sang her rendition of "The Lord's Prayer" former President George W. Bush was seen wiping away tears as he sat in the front row. McEntire took to social media later and explained what it felt like singing at former President George H.W. Bush's funeral.
"It was an honor and privilege to sing at President George H.W. Bush's funeral this morning. He was a great friend and leader and I will never forget the time we shared together."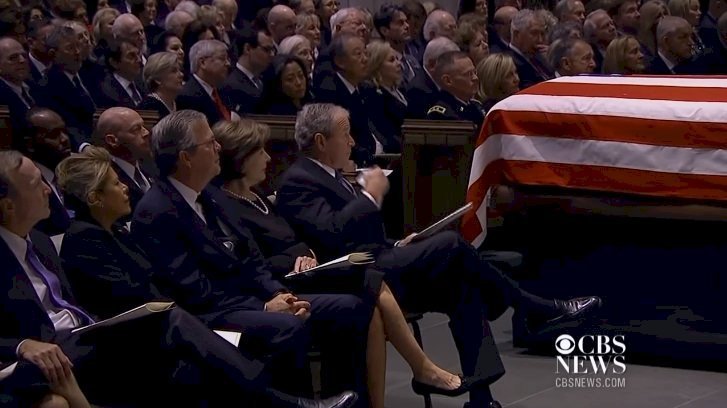 Source: YouTube/CBS News
For more on this story go to our Twitter account @amomama_usa. The country music musician was a longtime friend of George Sr.
When it was announced that the politician had passed on November 30, McEntire shared a photo of the two of them on Facebook.
She also shared a much older photograph from 1991 when the president had taken the stage at the CMA Awards. McEntire wrote alongside the image:
"Everyone in the country music business was so honored when President and Mrs. Bush joined us at the CMA awards."
At the memorial service, The Oak Ridge Boys also had a chance to perform. The country singing group flew to Houston to sing "Amazing Grace," at George Sr's request.
Band member Richard Sterban explained:
"President Bush means so much to us. George Bush requested before he passed away that we sing 'Amazing Grace,' his favorite song, at his funeral. There's no way we wouldn't do it. He always taught us to do the right thing, and it is a tremendous honor."
"One final time here on this earth, we're going to sing it for him and we believe in our hearts we'll see him again one day and we'll sing it for him again."
Fellow band member Duane Allen added, "It's what you do for friends." On December 5, a funeral was held for the former president at the National Cathedral in Washington, D.C.
After that service, his body was flown to Houston, where a second service was held at St. Martin's Episcopal Church.
McEntire was also quite close to the former president's wife Barbara Bush who passed on April 18. At the time, the country icon had written an Instagram post honoring the first lady saying:
"Mrs. Barbara Bush was one-of-a-kind. I was so honored the day she called me "Dearie"… I learned so much from her. Mainly to enjoy life, and spend more time with your family and friends. Mrs. Bush, I will miss you so much, my friend. Happy trails to you, till we meet again. Love, Reba."
Please fill in your e-mail so we can share with you our top stories!