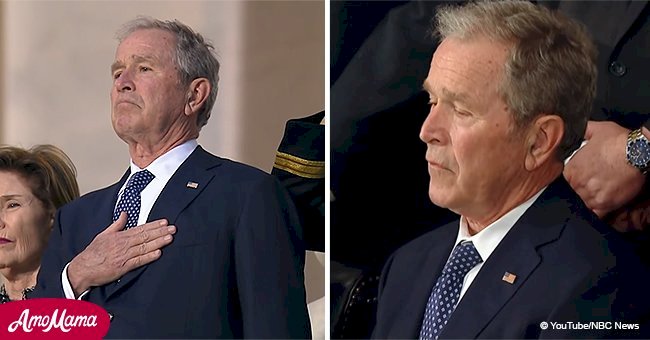 George W. Bush could hardly hold back his tears mourning the death of father George H.W. Bush
A memorial ceremony was held at the Capitol for former President George H.W. Bush. His son, former President George W. Bush, became visibly emotional during a tribute to his father.
Senate Majority Leader Mitch McConnell gave an emotive tribute to the late President George H.W. Bush. He said in the tribute: 'He kept us flying high, and challenged us to fly high higher still. He did it with modesty and kindness that would have been surprising in someone one-tenth as tough and accomplished as he was."
'We stand with you in mourning, but also in gratitude. Gratitude for lives well lived, and duties thoroughly fulfilled. Gratitude that God gave this country, George and Barbara Bush. They may now be reunited in the light of His grace.' continued the Senate.
The beautiful tribute brought former President George W Bush to tears.
Before the ceremony, the family held a send off for the 41st president of the United States of America. The family observed a moment of silence as members of the public watched them. Billy choked back tears as he stood under the Capitol Dome.
The former President will be honored with another ceremony on his arrival at Joint Base Andrews before being taken to Washington. He will lie in state in the U.S. Capitol from December 3 to the afternoon of the 5th.
The heartfelt send-off from his family on Monday was attended by his sons George W. Bush, 72, Jeb Bush, 65, Neil Bush, 63, and Marvin Bush, 62. His daughter Dorothy Bush Koch, 59, was also in attendance.
All of the siblings were accompanied by their spouses at the U.S. Capitol Rotunda, where the former president lies in state.
The 41st president's body will remain on the Lincoln Catafalque in the Capitol Rotunda for four days. The Capitol will stay open to accommodate public mourners. The late President Bush is the first president to lie in state since 2006.
The Speaker of the House Paul Ryan, Senate Democratic Leader Chuck Schumer, House Democratic Leader Nancy Pelosi, Senate Majority Leader Mitch McConnell, and Vice President Mike Pence also made tributes to the former president.
The former president's service dog, Sully also took a moment to pay his respects to his former companion by standing near his coffin.
Please fill in your e-mail so we can share with you our top stories!