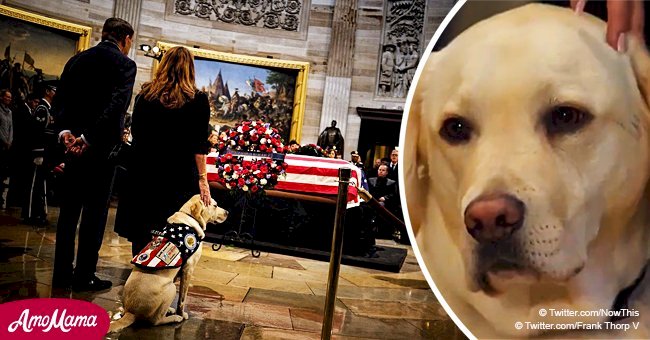 George H.W. Bush's dog Sully captured on video mourning near his casket during memorial

A touching video, shown below, of George H.W. Bush's service dog Sully paying his respects to his former companion by standing near his coffin, was posted to Twitter.
A heartbreaking video of George H.W. Bush's service dog standing next to the 41st President's coffin was posted to Twitter. The video shows a mourning Sully standing beside Bush's coffin.
Sully is a specially trained golden labrador. Sully is named after former airline pilot Chesley "Sully" Sullenberger III the pilot who famously landed a damaged passenger jet safely on the Hudson River.
The video shows Sully performing his final task as a service dog. He has accompanied the casket to Washington, D.C. on Monday and will stay with it till the former president is buried.
After his final task, Sully will return to the VetDogs Smithtown, New York headquarters. The VetDogs association released a statement saying he will spend the holiday season in New York.
He will later be transferred to the Walter Reed National Military Medical Center's Facility Dog Program in Bethesda. Sully will join other canines to help wounded veterans as they undergo physical and occupational therapy.
America's VetDog tweeted a statement, saying: 'America's VetDogs is deeply saddened by the loss of President George H.W. Bush."
"Our condolences go out to the Bush family at this time."
George Bush's body will be transported by Air Force One from Texas on Sunday to Washington. There will be a full state funeral in his honor.
The former President of the United States breathed his last on Friday, November 30, 2018. He died at his home in Houston, Texas.
The former president was in office from 1989 to 1993. He was surrounded by family and friends at the time of his passing.
The Bush family arrived in Washington with the body of the former president. They observed a moment of silence as members of the public watched them standing under the Capitol Dome.
The former President will be honored with another ceremony on his arrival at Joint Base Andrews before being taken to Washington. He will lie in state in the U.S. Capitol from December 3 to the afternoon of the 5th.
"As much as our family is going to miss this dog, we're comforted to know he'll bring the same joy to his new home, Walter Reed, that he brought to 41," wrote President George W. Bush
Please fill in your e-mail so we can share with you our top stories!