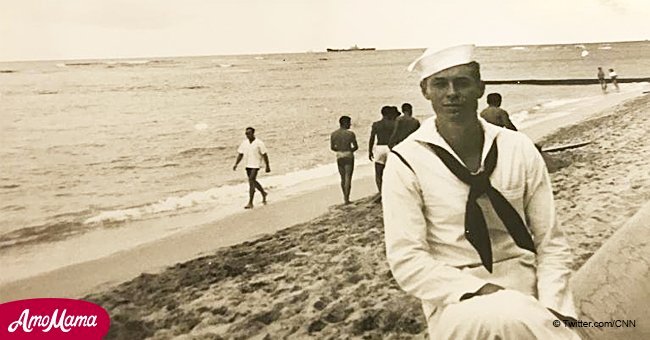 Pearl Harbor sailor returned home for burial 77 years after his death
After 77 years of waiting, the family of a Pearl Harbor hero laid to rest their loved one on Wednesday.
CNN reports that Carl Dorr's remains were finally returned to his family and the soldier was given a proper send-off.
Thomas Dorr, Carl's nephew, was among those who looked on as the coffin, draped with the nation's flag, was put into its hearse.
Thomas, who was standing on the Greenville-Spartanburg International Airport in South Carolina, later described the scene as "nothing but dead silence."
Follow us on Twitter for more @amomama.
As he thought of his uncle's place in the Pearl Harbor attack of 1941, he said in the interview:
"I knew that what I was experiencing was history."
Indeed, history was made on December 7 when Japanese forces unexpectedly attacked the American navy at Pearl Harbor.
Carl was among those onboard the bombed USS Oklahoma on that horrific day. Due to a lack of scientific methods, it took this long to identify his remains and give closure to his remaining family.
Only 35 people could be positively identified surrounding the aftermath of the military strike. The rest were buried at the Pacific's National Memorial Cemetary.
Since then, the families of 189 marines and sailors have also been able to say goodbye to their lost ones. And the authorities have made sure they did so with the fullest respect.
Dorr's family was driven in limos to the funeral home of the deceased. The Patriot Guard and police escorted their procession through salutations from law enforcement.
Another flag hung off a fire truck on an overpass they went under. A proper tribute was given to the 27-year-old who gave his life for his country.
Carl had four siblings at the time his family received the noticed that he was presumed to be among the dead. His mother, known as Mama John, died a year and a half after they sent out Carl's DNA in 2009.
The Defense Department who are conducting the searches hopes to identify all 394 remains in the next two years.
For Carl's family, however, they can be a bit more at peace knowing they laid to rest their loved one with dignity and honor.
As Thomas put it:
"It's the end of a story. He lived his life. He died for his country. He's come home. The story ends now. But he will always be remembered."
Meanwhile, the living will always remember that day that changed their lives forever. Retired U.S. Navy Commander Don Long was in a seaplane when he saw the fire from the Pearl Harbor attack.
He said:
"I recall it was a beautiful sunny day in Hawaii that morning."

Source: Twitter/ CNN
Then he saw the explosions. Nearby, an anchored plane received fire before bursting into flames. Not long after, a Japanese craft flew straight at Long's own plane.
He admitted:
"The sequence of events during the next few minutes is not entirely clear."
But Long can confirm that he was forced to swim for his life underneath flames that covered the surface of the water.
After the war, Long learned to forgive the descendants of those who carried out the attack. He said:
"For about 50, 60 years or so, it was a day that rang a little bell to me, but I did not do much. In the past 20 or so (years), I take part in some kind of activity that I'll say is appropriate for the day."
Another hero of the war also was honored over the years. Johan van Hulst saved the lives of around 600 children between 1942 and 1945.
He worked as a teacher in Amsterdam when the war started. Across his street, young Jewish children were being held at a nursery before deportation to death camps.
Van Hulst saved them by hiding them in laundry baskets and getting them to safe places. The descendants of those children will always remember his courageous act. He passed on March 22, 2018, at the age of 107.
Please fill in your e-mail so we can share with you our top stories!