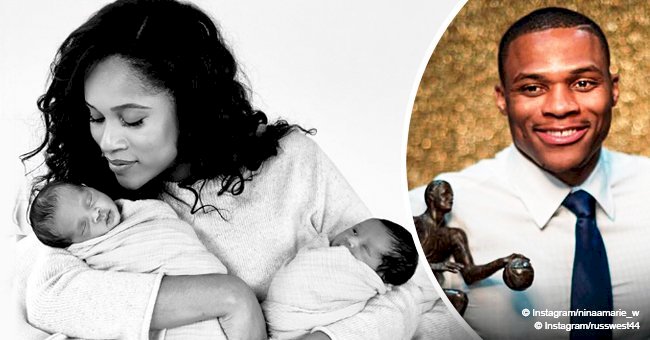 Russell Westbrook's wife steals hearts with 1st photo with their adorable newborn twin daughters
Nina Westbrook unveiled her twins' faces for the first time yesterday in an adorable Instagram snap.
It's been almost three weeks since Nina and her husband, Oklahoma City Thunder player Russell Westbrook, became parents-of-three. The couple also has a one-year-old son, Noah.
Before now, fans only saw a picture of the twins' hands, but the proud mom has revealed the gorgeous faces of her girls, Skye and Jordyn.
In a black-and-white image posted on Instagram, Nina cuddled the twins in each hand and gazed on lovingly, as only a mother would.
"He probably does more than I do when he's around. He wakes up early, stays up late, puts Noah to bed."
She captioned the cute image: "Mommy & Daddy's Girls."
BABY UPDATE
Russell and Nina welcomed their new additions on November 17, and both parents took to social media to share their joy.
Alongside a Twitter snap of the girls' hands bearing name jewelry, the NBA player quoted their date of birth and added a love emoji.
Nina chose to update her fans on Instagram with a more detailed report. She shared the same photo as her husband and wrote:
"Mommies girls are here and healthy."
HANDS-ON DAD
The twins were born on a day their father's team was to meet with the Phoenix Suns, but the Point Guard opted out of the game, citing "personal reasons."
Nina and Russell casually announced that they were expecting twins in September and the athlete confessed:
"Having two girls is exciting in itself, but being able to be blessed and have more children is a complete honor."
Nina, who runs a boutique called "The Little Ark" has also spoken about Russell's parenting style. Despite his busy schedule, Russell remains a hands-on dad.
"He probably does more than I do when he's around. He wakes up early, stays up late, puts Noah to bed. He makes sure to really emphasize spending that time with him," Nina admitted.
FAMILY FIRST FOR RUSSELL
And Russell, who takes pride in his family over any other thing, echoed:
"That's the most important part to me, to make sure being a father, a husband and a family man is more important than being anything else."
Now that the twins are here, the doting dad is most likely showering them with all the love and attention there is already.
Skye and Jordyn are two fortunate girls!
Please fill in your e-mail so we can share with you our top stories!