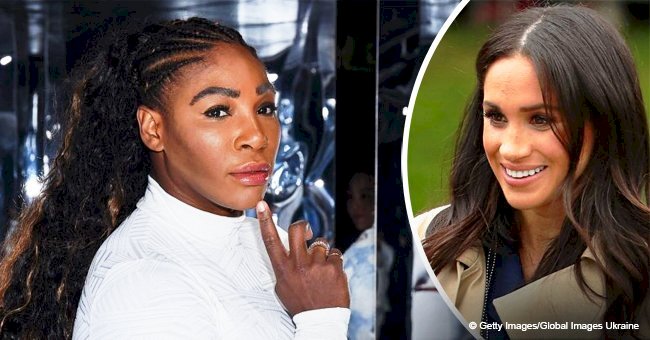 Serena Williams reveals why she told close friend Meghan Markle to 'stop being so nice'
Everyone needs a friend like Serena! The tennis superstar revealed recently why she told her friend, Meghan Markle, to stop being so nice.
The Duchess of Sussex is expecting her first child with her husband, Prince Harry in Spring 2019 and her close pal, who has been down that road before, is giving her priceless advice.
PEOPLE caught up with Serena Williams at the launch of her clothing line "Serena" in Miami, and the mom-of-one said that Meghan has the same habit, despite juggling pregnancy with the responsibilities of royal life.
Serena recalled one of their conversations:
"I'm like, 'How are you?' and she's like, 'No, how are you?' and I'm like, 'You're so sweet, but I'm really asking – how are YOU?'

I'm like, 'Meghan, stop being so nice…you're the pregnant one, aren't you supposed to have hormones, why are you so sweet?' But that's always been her."
Serena is a mom to one-year-old daughter Olympia Ohanian, and even though she gives Meghan some mommy tips, the athlete admits that Meghan "still gives me more advice."
Meghan and Serena's friendship date back to 2010 when they met at the Super Bowl and got along immediately.
The Mirror reports an excerpt from Meghan's former lifestyle blog, "The Tig," where she wrote about their first meeting.
"We hit it off immediately," shared the former "Suits" actress. "Taking pictures, laughing through the flag football game we were both playing in, and chatting not about tennis or acting, but about all the good old fashioned girly stuff."
The pair went on to meet again at the 2014 Super Bowl and also at the launch of Serena's clothing line during the 2016 New York Fashion Week.
Despite Meghan's new life in London, she and Serena continue to be best pals and support each other. The 23-time Grand Slam singles winner and her Tech mogul husband, Alexis Ohanian, were at Meghan and Harry's May wedding, and the former lifestyle blogger cheered on her friend at Wimbledon in July.
Meghan also made a supportive move two months ago when she rocked a blazer from Serena's collection while on her first international tour with Prince Harry.
We don't know if Meghan will take her friend's advice, but it must feel good to know you've got a friend who has your back.
Please fill in your e-mail so we can share with you our top stories!