Meghan Markle gets emotional during Serena Williams' speech after her Wimbledon loss
Duchesses Meghan Markle and Kate Middleton went together to the Wimbledon final match between Serena Williams and Angelique Kerber.
Meghan and Serena have been friends for a while, and the former actress has been supporting the tennis player from the crowd for a couple of years already. Now that Meghan is part of the British royalty, their relationship has not changed.
Unfortunately, Serena lost in two sets: 6-3, 6-3. However, her performance throughout the tournament was very impressive taking into consideration all the things she endured before reaching the Wimbledon finals.
Ten months ago, Serena welcomed her first daughter Olympia next to her husband, Reddit co-founder, Alexis Ohanian. Things were difficult as she developed blood clots in the lungs and abdomen following the emergency surgery.
Thankfully, she managed to recover from that and get back on the court, but she has to wear compression sleeves and tights during her matches, reported The Sun.
The first tournament Serena competed was the French Open in May. Nevertheless, she had to retire from it as she got an injury in her pectoral muscle that was so severe that she couldn't serve.
Meghan Markle chokes back tears at Wimbledon for very sweet reasonhttps://t.co/X8laBSZznV pic.twitter.com/SFoIQwDdyQ

— Daily Mirror (@DailyMirror) July 14, 2018
When Serena got better, she started playing in the Wimbledon tournament. Her performance surprised everyone and, even though she lost the final, she revealed there was nothing to be disappointed about.
"I was really happy to get this far. For all the moms out there, I was playing for you today"

Grace, poise and emotion. A runner-up's interview given by a true champion.@SerenaWilliams 👏 #Wimbledon pic.twitter.com/jjtw3cWyEq

— Wimbledon (@Wimbledon) July 14, 2018
During the interview after the match, Serena said that she was happy to get that far. Trying to hold back her tears, she revealed that she gave her best for all the mothers out there.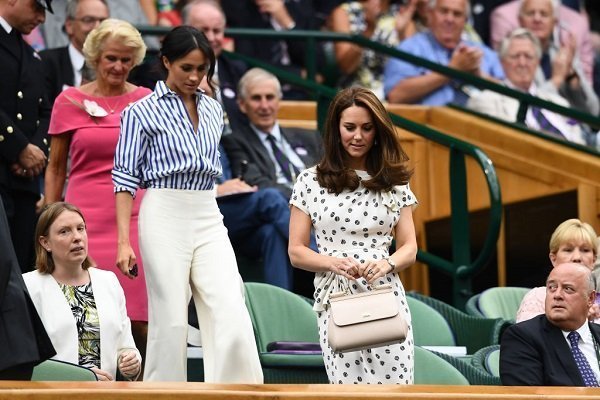 Serena's words were so touching that even Meghan, who was standing in the Royal box, 'could be seen blinking away the tears in her eyes,' reported Harper's Bazaar.
Meghan Markle looking exceptional at Wimbledon 😍🎾 pic.twitter.com/6GRnCwRIS5

— Em Sheldon (@emshelx) July 14, 2018
Serena and Meghan's relationship is so good that the tennis star was even invited to the now-Royal wedding ceremony with Prince Harry.
According to The Sun, Serena and Meghan have always supported each other by 'being there' for when they are needed, proving that their friendship is very strong.