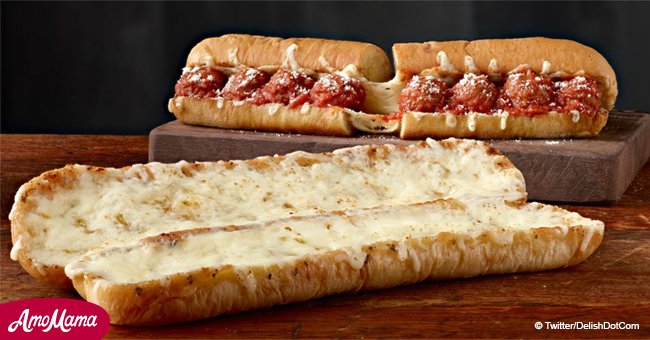 Subway has just launched 'arguably the most delicious cheesy garlic bread ever served'
The fast-food restaurant franchise is introducing a very tempting item for a limited time in the latest of several surprises they brought to the customers during a year filled with innovations.
The company started the year with the announcement of their restaurants no longer required to offer the classic $5 Footlong, which has become too costly, and they made headlines once again with their Valentine's Day sandwich giveaway.
Now, Subway has issued a press release to launch their ultimate secret weapon to treat their consumers with, and we can't wait to try it. Read more on our Twitter account @amomama_usa
From December 5, and through February 27, people will have the chance to enjoy the franchise's New Ultimate Cheesy Garlic Bread, specially devised to bring a new aspect to two of Subway's fan favorite sandwiches.
AN UPGRADE TO TWO FAN FAVORITES
According to the press release, the New Ultimate Cheese Garlic Bread "features a garlic butter spread made with real butter and roasted garlic, melted parmesan and shredded mozzarella cheese that create gooey, bubbling perfection."
"When people first hear about the New Ultimate Cheesy Garlic Bread, they usually tell us we had them at hello. Pairing two of our most iconic sandwiches with arguably the most delicious cheesy garlic bread ever served delivers a flavor experience unlike anything in the market today."
-Subway's Vice President of Global Brand & Innovation Len Van Popering, PR Newswire, December 5, 2018.
Although you can opt to use the special edition bread in any of the sandwiches in the menu, they have upgraded two of their classics in combination with it to turn them into the Ultimate Meatball Marinara Sandwich and the Ultimate Spicy Italian.
MCDONALD'S FESTIVE MENU
With Christmas around the corner, the most popular fast food chains in the US are doubling their efforts to keep their customers around during the holiday season, and this always comes with surprises in the menu.
Early in November, McDonald's revealed their festive menu for 2018's Christmas celebration, with a series of items launched at various dates in the month, to woo the curiosity of their loyal clients.
Instead of creating a Christmas burger, this year the company decided to bring back the Big Tasty from November 7, with the new Chicken Big Tasty following from November 21.
The Chicken Big Tasty is also available bacon, and it is made using two Chicken Selects. As for sweets, the Malteser McFlurry came to replace the Chocolate Orange McFlurry from November 21. Apparently, there will be no Festive Pie this year.
Please fill in your e-mail so we can share with you our top stories!