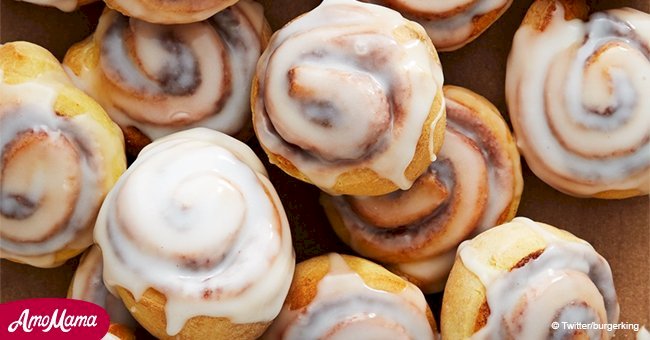 Burger King's cini-minis is back from the 90's and we missed them so much
The famous restaurant chain brings back one of the most nostalgic menu items from around the 90's after a customer managed to gather enough petition online.
Cini Minis was one of the most popular food items available at the Burger King, which was introduced in 1998. However, it disappeared off the menu sometime in the 2000's, as reported by Pop Sugar.
The source further confirmed that the delicious food item, which is a miniature cinnamon roll, has been available since November 29 for a limited time while the supplies last.
Brett Pickett started an online petition on Change.org around three years ago requesting the fast-food chain to bring back their delicious treat.
Follow us on Twitter to learn more.
Picket wrote in her appeal, 'Cini-Minis were a large part of my childhood and Burger King chicken-stripped them away from me like the jesters they are.'
'Chicken fries aren't even worth the comeback (nor price); I demand they bring Cini-Minis back so I can once again enjoy the sweet miniature cinnamon rolls of goodness.'
Brett Pickett, Change.org
The petition was finally successful with over 2,638 people have signed it. Picket confirmed about six days ago that they had won the fight to bring back Cini Minis.
Meanwhile, Pop Sugar informed that every cinnamon rolls at Burget King are baked on a daily basis in the store ovens. They are prepared using 'signature cinnamon sugar and creamy sweet icing for dipping.'
In a video of the product's first commercial that ran in 1998, Burger King announced that they were serving fresh-baked Cini-minis for breakfast in partnership with Pillsbury, another popular brand.
At the time, the delicious treat was priced at just 99 cents for a limited time period.
Signing an online petition is proving to be one of the strongest platforms for the people to get their voices heard.
Previously, a few fans of the show "The Ranch" also started an online petition to bring back actor Danny Masterson following his dismissal from the show over the concerns of sexual allegations pressed against him.
Please fill in your e-mail so we can share with you our top stories!