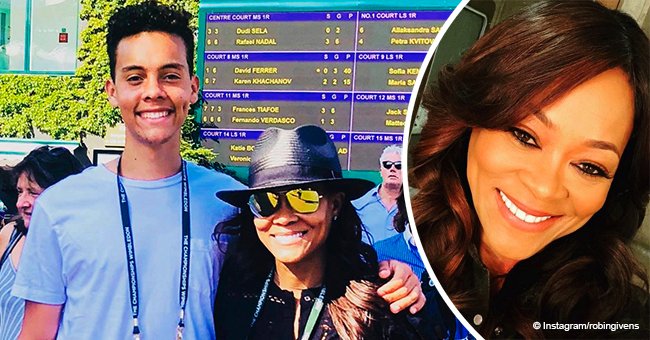 Remember Robin Givens from 'House of Payne'? Her son is all grown up, towering over mom
Robin Givens' youngest son surely didn't inherit her height, but he did get her good looks. The young man allegedly doesn't watch Givens' work in "Riverdale," as he is wholly focused on his tennis career.
Robin Givens has a long-standing career in the entertainment industry filled with ups and downs, but through most of it, she had her two sons to give her a sense of peace. She adopted her first son, Michael, in late 1994, and five years later had her second, William, from her relationship with tennis player Murphy Jensen.
A DISTRACTED TENNIS PLAYER
Williams is now a 19-year-old tennis player on the making. The boy, according to Givens, lives and breathes for tennis. Not only does he loves playing the sport, but he also works for a tennis company.
On a recent interview for E! "Daily Pop," the 54-year-old "Riverdale" actress, who plays the city major in the series, revealed that her son is so clueless about her career, that his workmates seem to have trolled him.
"[My son] works for this tennis company," she started, "and he calls me up, and he goes, 'Mom, everybody at work is saying you're the mayor. And I'm trying to tell them you're not in politics. You're an actor.' He had no clue."
QUALITY TIME WITH MOM
William splits his time between Seattle, New York, and Vancouver, where his father lives, but earlier this year he was college haunting with Givens in Santa Cruz, California.
Robins immortalized the search with an adorable mother-son selfie where the boy flashed an ear to ear smile posing with his mom with the sea in the background.
The pair also enjoyed some quality time in London a few months ago, as they attended the Wimbledon tournament, a significant event for William, who is set in following his father's steps into the tennis world.
GIVENS' DARK PAST
And while Robin surely looks happy these days, she had some rough days back in the '80s and '90s. The former "House of Payne" star was titled "The Most Hated Woman in America" in the fall of 1988, after her tumultuous split from heavyweight champion Mike Tyson.
She was also called a gold digger for marrying Tyson, who was at the peak of his career at the time, without a prenuptial agreement.
However, Givens has stated in several occasions she was just a woman in love, and the proof of that is that she chose to stay with the boxer even when he was making a nightmare of her life.
PLANTING THE SEED FOR #METOO
Robin was one of the first woman in the entertainment industry to publicly speak about being a victim of domestic violence, and she recently told Wendy Williams that she's glad she did it despite the negative reaction she got out of it.
"Somebody said, 'You were like ground zero of #MeToo. I pray that anything I've gone through, however difficult it was for me, helped somebody else," she stated on the show.
Robin has now moved on from her past and is focused on her job. Next year will bring more exciting projects for the actress, including a role in OWN's new series "Ambitions."
Please fill in your e-mail so we can share with you our top stories!