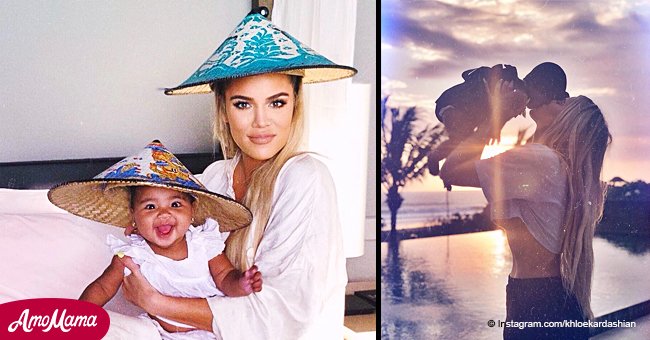 Khloé Kardashian reveals underboob from a tiny crop-top in photo with daughter

The reality TV personality and socialite flaunted her two favorite things: her baby daughter and her attractive body.
The 34-year-old Khloe Kardashian shared a beautiful snapshot of her 7-year-old daughter, True, with a paradisiac background landscape at sunset.
"Moon of my life," Kardashian captioned the image, on which she is seen holding True up in her arms on top of her head as she plants a kiss on the baby's cheek.
Her crop-top barely covered her breasts, also known as "underboob." Read more on our Twitter account @amomama_usa.
This last detail proved to be somewhat controversial in the popular post that has been liked close to 3 million times in a couple of days.
"There is not any attention going to the baby because ur [expletive] is hang out, 'mama,'" criticized "aurora_alaska_a". "Let's guess! You're not showing off your baby but your flat stomach, right?" added Karen Santiago.
"Are we looking at the precious, breathtaking moment between a mom and her sweet innocent baby, or are we seeing a long blonde haired woman with a flat tummy?" wondered Kala.
Users seem to be having a hard time understanding that a woman can be both proud of her physique and beauty and being a devoted loving mother.
It is true that Kardashian was much talked about in the past for rushing to the gym and worrying too much about her post-pregnancy figure too soon after delivering True in April
Still, that doesn't mean that people have the right to shame her. As usually happens when she is the target of "mom shamers," her most loyal fans have steps up in her defense.
"Just because she is famous doesn't make bullying justified. Y'all need to relax and remember she's a person too", wrote "bmschoenow."
A user known only as Mooneyboosdaddy said:
"People are haters! Who cares what she is wearing and how many times it took to take the pic, capturing times and moments with your littles is one of the best memories you could ever want, people need to stop hating and mind their own business."
Kardashian gave birth to True back in April, just two days after her boyfriend and father of her first born Tristan Thompson's cheating scandal made it to the news.
Despite that difficult situation, the two have managed to keep their relationship going.
Regardless of the drama, Khloe allowed Tristan into the delivery room with her. In a series of tweets, Khloe explained why she made this decision.
She chose to put her daughter's feelings before her and focused on the birth itself instead of letting the drama get to her.
Please fill in your e-mail so we can share with you our top stories!