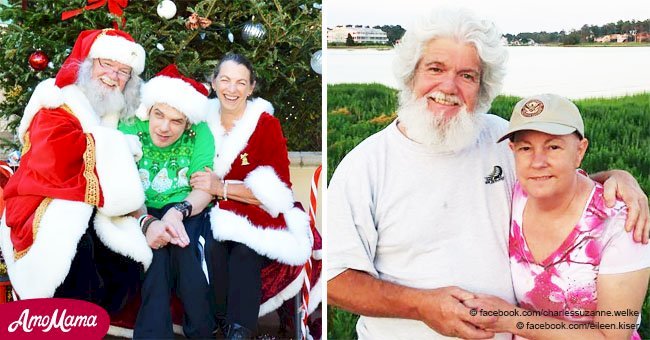 Grieving widower continues Christmas tradition to honor his late wife - Mrs. Santa
Although he lost his partner, this widower still dresses like Santa Claus to honor the last wish of his late wife.
Charles Welke is one of the certified helpers who dresses in Santa every Christmas to bring joy to the children of his community.
As reported by WFMY News 2, the widower almost gives up on his tradition after seeing his wife lose the battle against cancer.
Charles has dressed as Santa Claus for about 13 years and says this tradition started with a cheap suit and a fake beard. Read more on our Twitter account @amomama_usa
Suzanne, his beloved wife for 25 years, dressed as Mrs. Claus next to him. This was a tradition that they held together every year.
But when doctors discovered that she had an aggressive form of brain cancer, this Santa feared he could not continue doing it alone.
Suzanne began to recover her memory after they removed most of the tumor, but could not remember her husband's name.
Charles revealed that it was at that moment when he told him that he could not do it without her, but his wife knew that this was not true.
"She shook my finger and told me: you have to be the best Santa you can be. So I could not, I could not stop", said Charles Welke.
After the death of Suzanne, Charles could not help but continue with the tradition and says that he will never stop doing it.
According to 13 News Now, Charles really enjoys his role as Santa and it is something that brings great joy to children who know him.
Now he has several friends and assistants who play Mrs. Claus and although Christmas is difficult for him because of his loss, tradition keeps him afloat.
Being filled with the Christmas spirit, dressing in the custom-made suit and cheering the children gives him a purpose and the opportunity to continue with his wife's request.
The money he raises when dressing as Santa goes to his favorite charities. This year, he will donate it to a group that trains service dogs in Florida.
Santa is a wonderful character that brings joy and happiness to many children on this special holidays, and although he is fictional, kids have a great time believing in his magic.
Recently, a substitute teacher was banned from working in a school district after she told children Santa isn't real. She first asked the children what holiday is upcoming, to which one student rightly said "Christmas!" After that, things went downhill with an inappropriate lesson and possibly, many broken hearts.
Please fill in your e-mail so we can share with you our top stories!