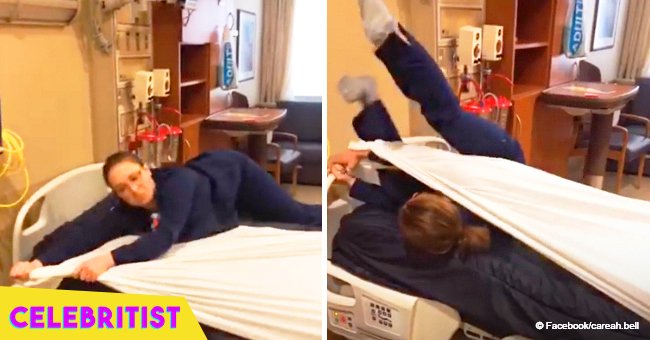 Hilarious video of Indianapolis nurse struggling to make the bed went viral in 2018

Careah Bell McPeek is a nurse from Indianapolis who became an internet sensation after uploading a video of her struggling to make a bed at a hospital.
In the clip, the lady appeared next to the bed with a sheet in her hands ready to make the bed. However, the mattress seemed too big for the sheet, so McPeek couldn't fulfill her apparently simple task in her first attempt.
Later, she jumped on the bed and tried it one more time, but it seemed impossible. At some point, she even wrapped herself in the sheet and rolled her way to one end of the mattress unsuccessfully.
After trying for a while, McPeek realized that it wasn't a matter of power but mind, so she created a math formula to get it done. When that failed too, she tried with rituals and chants.
Finally, she just held the sheet, jumped on the bed, and covered herself with it, saying "perfect!" at the end, though it was not quite perfect. In the caption of the comic video, she wrote, "When the hospital spends $30K on a new bed but the sheets are 30 years old."
McPeek's video has garnered more than 6.5 million views and almost 10,000 comments in a month from people who pointed out that the reason it was so funny was that it was a true struggle that everybody has experienced at least once.
This nurse is not the first person who went viral for failing at doing something. Maria Actis, an 85-year-old lady, became a sensation after one of her grandsons recorded her struggling to use a Google Home Mini device.
In the clip, the Italian grandmother appeared sitting at a table surrounded by her family members who probably expected Actis' reaction. The smart speaker was in front of her, and a member of her family explained to the grandmother what to do.
Actis then started saying "hey goo goo" and "ok goo goo," trying to make the device work. At some point, she asked what would be the weather like the following day, and when the gadget replied, she stood up and held her husband's arm.
Surprised, Maria said, "I'm scared! I'm scared! It's a mystery!" After trying to make the gadget work for a while, she said that it was stupid because it couldn't understand what she was saying. Actis' clip was so viral that even Steve Harvey got her on his show not once but twice.
Please fill in your e-mail so we can share with you our top stories!