Remembering Aretha Franklin's moving performance of 'America, The Beautiful' at WrestleMania III
Aretha Franklin, known as the Queen of Soul, had several amazing performances through her six decades in the music industry. One of them took place in WrestleMania III in 1987.
About 93,000 people went to the Pontiac Silverdome just outside of Detroit to enjoy the spectacle, which main event was the fight between Hulk Hogan and his past friend Andre The Giant for the WWF World Heavyweight Championship.
Even though such a rivalry was highly anticipated, there was another event that stayed in the crowd and audience's minds for a lifetime: Aretha's performance of "America, The Beautiful."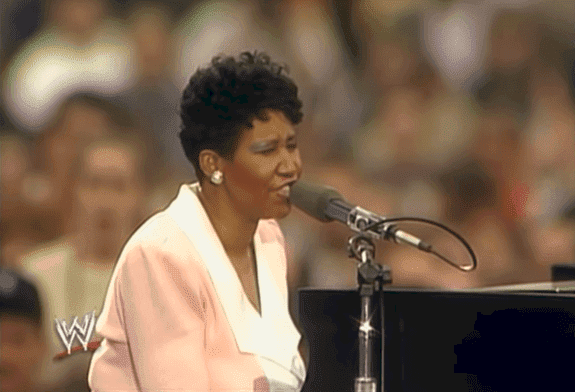 HER PRESENTATION
Vince McMahon, who has been the head of WWE since the 1980s, introduced Aretha to the crowd, who immediately stood up to cheer. The Queen of Soul was next to the ring playing the piano wearing a pale pink ensemble.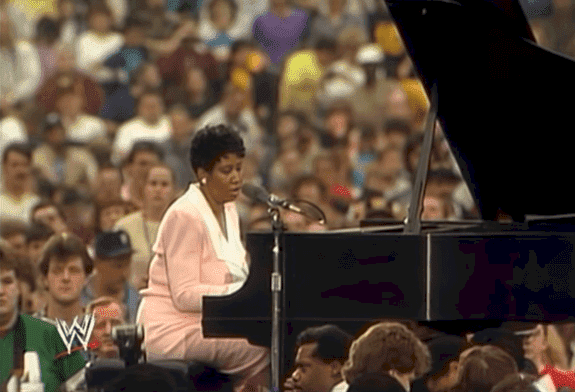 Even though she was performing in front of more than 90,000 people, she made it look as if it was a presentation for only a couple of friends. Her voice was strikingly beautiful, hitting every single note no matter how high or low it was.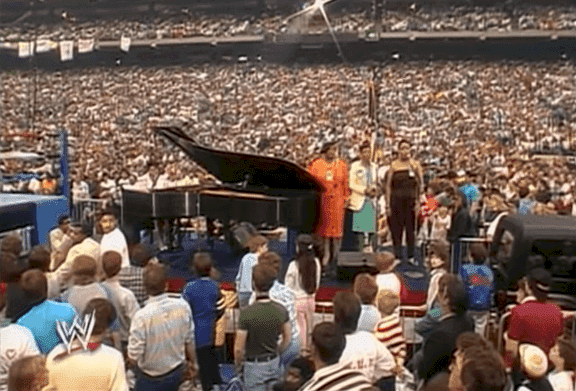 When Aretha finished singing, people gave her a well-deserved standing ovation and then, she left the stage. The event finished with Hulk Hogan defeating Andre the Giant and becoming the WWF World Heavyweight Champion.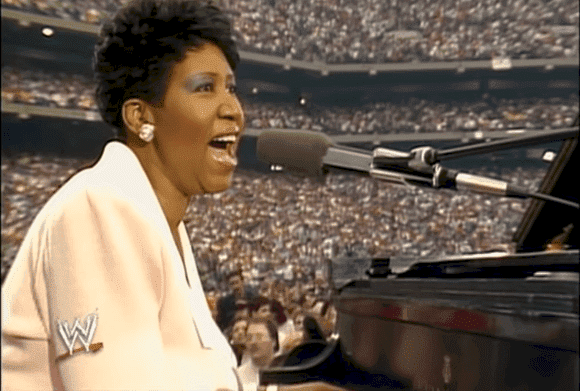 HER DEATH AND FUNERAL
The Queen of Soul passed away on August 16, 2018, aged 76, after losing the battle to pancreatic cancer. Several people and celebrities attended her funeral to pay tribute to her, including Bill Clinton, Stevie Wonder, Tyler Perry, Smokey Robinson, and more. Ariana Grande, Jennifer Hudson, and other artists sang during the ceremony.
A couple of months after her passing, Smokey told AARP Magazine that he was still in "recovery mode." The man, who was Aretha's childhood friend, set clear that he would miss their conversations and meetings.
"I feel what I sing, and I think people can feel what I feel when I do."
Music icon @SmokeyRobinson remembers the birth of Motown: https://t.co/l1ozdtnMFl pic.twitter.com/v88yLjFzAT

— AARP (@AARP) November 28, 2018
While it might be hard, the singer admitted that the Queen of Soul is in a better place spiritually-wise. "She was suffering at the end there, and I don't ever want to see her suffer. So now she's cool, and I'm cool 'cause she's cool," confessed the Rock and Roll Hall of Famer.
After a telecast procession up Seven Mile Road, Aretha was interred at Woodlawn Cemetery in Detroit.