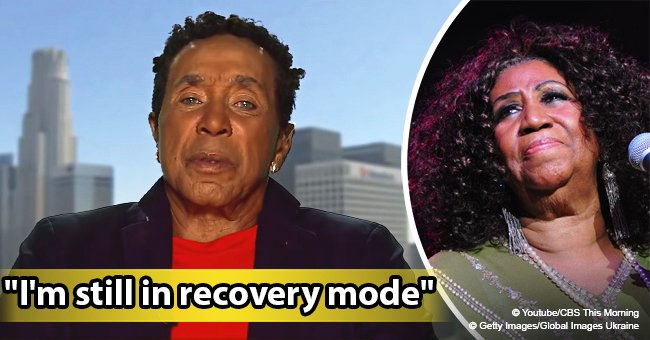 Smokey Robinson reveals he misses childhood friend the late Aretha Franklin in new interview
Smokey Robinson, the singer and songwriter known as the front man of the Miracles, revealed that he missed Aretha Franklin, who was his childhood friend.
In an interview the man had with AARP The Maganize's December/January 2019 issues, he pointed out to be "in recovery mode" for Aretha's passing because he loved her.
Apart from that, Smokey admitted that he would miss their conversations and meetings. While it might be hard, the singer admitted that the Queen of Soul is in a better place spiritually-wise.
"She was suffering at the end there, and I don't ever want to see her suffer. So now she's cool, and I'm cool 'cause she's cool," confessed the Rock and Roll Hall of Famer.
TALKING ABOUT OTHER LATE ARTISTS
Not only Smokey talked about Aretha but also Michael Jackson. He said that the King of Pop became a man from a very early age as he started singing in nightclubs at the age of eight, so he didn't have a childhood.
When Michael grew up, he "became a child" who could play and do all the things that he should have done when he was younger. Smokey also shared the kind of relationship he and Marvin Gaye had.
"[Marvin] was my brother brother. We were together all the time, and he recorded my favorite album of all time, 'What's Going On.' He was one of the greatest singers ever. I used to tell him all the time, 'You Marvinized my song, man.' Because he would do stuff vocally that I had never even dared to dream could be a part of the song," revealed Smokey.
KEEPING HIS LIFE IN PRIVATE
Smokey, who is perhaps one of the most famous American recording artist and songwriters, has managed to keep his private life out of the public eye and give his family a normal life.
Little is known about his family. However, Tamla Claudette Robinson, one of the singer's children, uploaded a photo of the singer's granddaughter, whose name has not been revealed.
Apart from that girl, Smokey has two more grandsons. The only information about them is that they are twins and that their father is Berry William. Smokey's third son, Trey, has not welcomed any child so far – not publicly, at least.
Please fill in your e-mail so we can share with you our top stories!