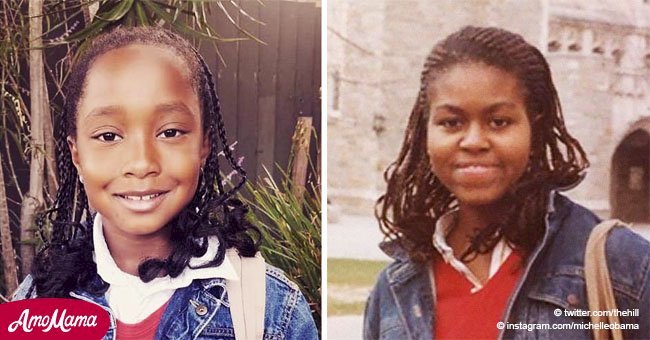 8-year-old girl goes viral by dressing up as the stunning Michelle Obama, and it's priceless

An eight-year-old recreated Michelle Obama's look from when she went to Princeton. The former first lady got wind of the photo and shared it.
Like many female Americans, Ella Lorraine Brown sees Michelle Obama as an inspirational icon. And that's the type of people her parents try to surround her with according to Yahoo!
Ella-Lorraine herself was named after Ella Fitzgerald, the iconic jazz singer. But it was Ella who chose Obama as the figure she would portray for Cultural Heroes Day at her school. The photo is found below.
Follow us on Twitter for more @amomama.
Her mother, Karlyn Johnson Brown, said:
"She was really in awe of the idea that with hard work you could become anything."
Obama had become a Princeton student against the odds of a lack of faith coming from her school guidance counselor. She wrote about it in her best-selling new book "Becoming."
The book, which sold out within weeks of its release, making record sales for the year, wrote:
"Rightly or wrongly, I got stuck on one single sentence the woman uttered. 'I'm not sure,' she said, giving me a perfunctory, patronizing smile, 'that you're Princeton material.' "
It was this attitude that got the former first lady to be a "powerhouse in her own right," as written by Karlyn on the Facebook post she shared of her daughter.
The picture, which went viral, featured Ella-Lorraine adorned in the same outfit as Obama from her Princeton days. The eight-year-old hit the now-famous look right on the head.
She braided her hair and accessorized her wrist. She wore a white undershirt, maroon sweater, and denim jacket that perfectly matched freshman Obama's look.
Karlyn, who also attended the renowned university, explained the choice:
"I loved it because by choosing to portray her hero as a college student, the focus was on Michelle's accomplishments as an individual, not just as an attachment."
Her father also spoke on how they have raised their daughter thus far:
"We try to surround Ella-Lorraine with women who are go-getters like Michelle, women who are independent and smart, level-headed and loving. We make sure she knows about those who have gone before and have passed on."
Her mother added:
"Ella-Lorraine has never known a time when Black women weren't publicly honored and 'Black girl magic' wasn't a highly celebrated thing. That's awesome."
Their daughter has also portrayed non-living icons including Bessie Coleman, the first African-American pilot. In another project, she dressed up as Ruby Bridges, the six-year-old child who desegregated the first elementary school down South.
Ella-Lorraine has an older brother named Langston. Karlyn and Eugene took the name from prolific poet Langston Hughes.
They have allowed people to re-post the picture of their daughter. Karlyn only asked that she be tagged or credited so she can see where the inspiration is shared.
And the heartwarming photo was retweeted on Friday by none other than Obama herself.
Another little girl looked up to Obama so much that she decided to dress as her for Halloween. Parker Curry, only two, recreated a look of Obama for the second time this year.
It started when she saw Obama's portrait at the National Portrait Gallery. Her mother helped her to recreate the same white and black dress the first lady donned in the picture.
Parker even took a photo of her sitting with her little hands under her chin, just as Obama posed for the historical portrait. Again, the first lady saw the photo and she even met with the young girl back in February.
For her Halloween post, she retweeted the photo with the caption:
"You nailed the look, Parker! I love it!!! [heart emoji]"
Obama had said that the portrait would help "so many young girls and young girls of color who don't often see their images displayed in beautiful and iconic ways."
With or without the placement of her photo in such exclusive galleries, Obama is doing just that. She is inspiring young girls everywhere with her historic achievements.
Please fill in your e-mail so we can share with you our top stories!