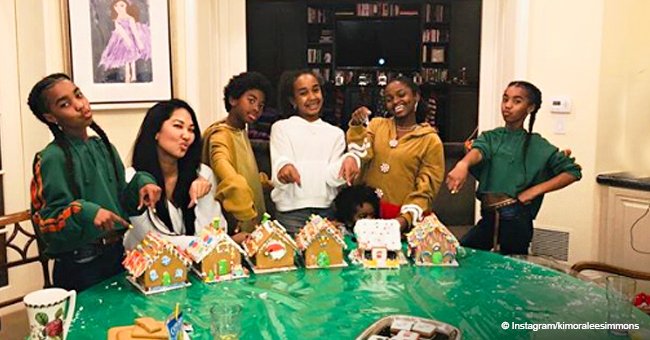 Kimora Lee Simmons has gingerbread house contest for late friend Kim Porter's kids in new photos
Kimora Lee Simmons, the fashion model and designer, took to Instagram to share the gingerbread house contest she and Kim Porter's children had.
After Kim's passing, her children – especially the twins D'Lila and Jessie – have endured a difficult time. Thankfully, their father Diddy has been doing his best to make their lives as normal as possible.
He has got some help, though, as Kimora, who was Kim's friend for a long time, has stepped into the family. Recently, she uploaded a slideshow showing a gingerbread house contest she threw with her family and the twins.
GINGERBREAD HOUSE CONTEST
The first image portrayed Kimora and her children next to D'Lila and Jessie posing with their houses in front of them. In the caption, the fashion designer wrote that it was what they did for their Friday night and added the hashtag "Who won?"
Apart from that, there was a short clip showing the whole group decorating and creating the gingerbread houses in what was labeled as beautiful family time. In the third image, all of them appeared sitting at the table with the parts of the houses scattered all over it.
PEOPLE'S REACTION
As soon as Kimora uploaded that slideshow, her followers took to the comment section to share their thoughts and praise her for such an initiative.
"You are so amazing and a truly genuine friend to be there for Kim's Girls," commented one user.
"Friends are those who are there to help pick you up when you most need it!" added another one.
"You are a true definition of a Real Friend! You have stepped up right away. You are not talking about it, you are being about it. I am sure she is smiling down on you!" wrote a third follower.
DIDDY'S REQUEST FOR HELP
Kim was found dead in her Toluca Lake, California home on November 15. The cause of death remains unknown as it "was deferred pending additional tests." Almost a month after her passing, Diddy took to Instagram to ask for help.
Kimora, who was Kim's friend for a long time, has stepped into the family.
The 49-year-old rapper shared a text-based image that read: "You're about to be happier than you've ever been." In the caption, however, he probably shared how he has been feeling lately.
"HELP ME. HELP ME. GOD PLS HELP ME!!! PLEASE PRAY FOR ME CAUSE MONEY CAN'T STOP THE PAIN!!! ONLY YOU CAN GOD. ONLY PRAYER CAN HELP ME GOD PLS HELP US!!! IF I DIDN'T NEED THE PRAYERS I WOULDN'T ASK," wrote Diddy.
Please fill in your e-mail so we can share with you our top stories!