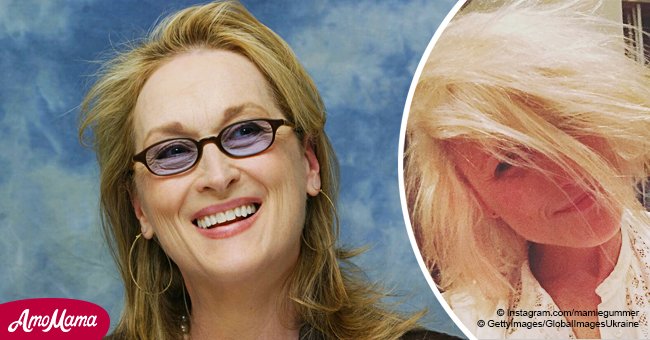 Meryl Streep's pregnant daughter will make her a granny for the first time

Academy Award winner Meryl Streep is about to take on the most challenging role of her career - becoming a grandmother for the first time.
"The Good Wife" actress Mamie Gummer is expecting her first child, and her celebrity mother, Meryl Streep is ecstatic at the thought of becoming a grandmother for the first time, reported US Magazine.on December 9, 2018.
The woman who is considered the greatest actress in living history will be taking on her most challenging role ever: Grandma to Mamie's baby.
MAMMA MIA STAR BECOMES GRANNY MERYL
Mamie Gummer is Streep eldest daughter by her husband, celebrated sculptor Don Gummer. Mamie, 35, who divorced actor Benjamin Walker, in 2013.
Mamie got engaged to producer Mehar Sethi in August. 2018. Sethi has written and produced series such as"The Mick" and "Bojack Horseman."
SECOND GENERATION ACTRESS WITH A LEGENDARY MOTHER
Since Mamie opted to use her father's name not many people associate her to Streep, although she inherited her mother's luminous beauty.
One of Mamie's first roles in cinema was she in Michael Cunningham's "Evening", where she played her mother's character as a young woman. She got to work opposite such idols as Vanessa Redgrave, Glenn Close, Claire Danes, and of course, Meryl Streep.
STREEP IS THE MOTHER OF A TALENTED BROOD
Streep's eldest child is Henry Wolfe, 39, who is a songwriter, musician, singer, and actor, who lives in Los Angeles California.
Her second daughter, Grace Gummer, 31, is also an actress, and has played recurring roles in "The Newsroom", "American Horror Story: Freak Show", "Extant" and "Mr. Robot".
Streep's youngest child is Louise Gummer, 27, a successful model who has shot covers Vanity Fair and Glamour, and starred in campaigns for Dior.
Streep confessed that she does not enjoy watching her early movies, a time of her life in which she admits she was profoundly unhappy.
It remains to be seen if Mamie Gummer's baby will carry the torch of Streep's incandescent talent into yet another generation, and add to Grandma's legend as the matriarch of a Hollywood acting dynasty.
Read more on Twitter Amoama USA.
MERYL STREEP HAD SELF ESTEEM PROBLEMS AS A YOUNG ACTRESS
Meryl Streep is one of the greatest idols of the silver screen, famous for both her beauty and her massive acting talent that garnered her an incredible 21 Academy Awards nominations, and three of the coveted statuettes for Best Actress.
Streep confessed that she does not enjoy watching her early movies, a time of her life in which she admits she was profoundly unhappy. Streep confided that she suffered from low self-esteem when she was young:
"I'll come upon a movie I'm in, and I'm very young and very beautiful. But I was so unhappy. I thought my nose was too big, I thought I was fat. Because these are things that people tell you."
Streep revealed that she had downplayed her appearance throughout her career, taking on roles that focused on her talent, and not her beauty.
In a related story, 72-year-old Cher and 69-year-old Meryl Streep shared a sweet moment at the red carpet for the London premiere of "Mama Mia: Here We Go Again."
Please fill in your e-mail so we can share with you our top stories!