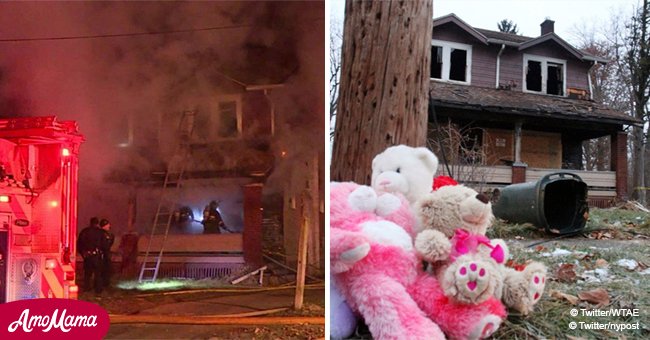 Ohio house fire kills 5 children with one-year-old twins among them

A Youngstown, Ohio, mother was left childless when a horrific house fire claimed the lives of her 5 children.
A devastating fire in Youngstown Ohio destroyed a family home in the early hours of December 9, 2018, reported KTLA.com.
Neighbors were awakened by a loud boom to find the two-story wooden house across the street burning. Witnesses reported that flames were shooting out of the first-floor windows, where the fire appears to have started.
"We have a relatively young department and most the guys have children. So it hits pretty hard and the fact that it's so close to Christmas hits even harder."
Youngstown Fire Chief Barry Finley, KTLA.com, December 10, 2018.
MOTHER OF 5 SURVIVED BY LEAPING FROM 1ST FLOOR WINDOW
The Youngstown Fire Department responded quickly and were able to pull out three family members. The three children they rescued later succumbed to their injuries in hospital.
The children's mother survived by jumping out of the first-floor window, but her 5 children perished as a result of the fire. The children were a 9-year-old, a 3-year-old, a 2-year-old, and a set of 1-year-old twins.
The mother was also taken to hospital for treatment, but no information was given out with regards to her condition.
FIREFIGHTERS INJURED IN THE BLAZE
Two of the Youngstown firefighters were injured in the fire. One was treated at the scene by paramedics, and another was taken to a local hospital for treatment and released. The mother was also taken to hospital for treatment, but no information was given out with regards to her condition.
COMMUNITY RALLIES TO SHOW GRIEF FOR THE LOST CHILDREN
Though the young family had just moved in 6 months before the tragedy, the community has rallied in a show of grief for their loss. Neighbors have been stopping by and depositing flowers, and stuffed toys as a memorial to the 5 dead children.
State and local authorities have started an investigation into the blaze, and initial findings do not seem to indicate any suspicious circumstances surrounding the tragedy.
SIMILAR TRAGEDY IN MICHIGAN KILLS 5 CHILDREN
A young family staying at the Cosmo Extended Stay Motel in Berrien County in Michigan was caught by a fire that broke out in the room below theirs.
Kiarre and Samuel Curtis had been staying at the motel with their 6 children: 10-year-old Marquise, 7-year-old Gerome, 5-year-old Samuel, 4-year-old Savod, 2-year-old Avery, and their 1-year-old daughter.
When firefighters arrived at the motel, the entire building was already engulfed in flames, and one end of the building had exploded.
Autopsy reports revealed that 26-year-old Kiarre and five of her children succumbed to smoke inhalation, leaving as sole survivors of the once numerous family Samuel Curtis and their tiny 1-year-old daughter.
The investigation carried out by the Michigan State Police Fire Marshall Division and the United States Alcohol, Tobacco and Firearms Division indicates that the fire was accidental and began on the first floor of the motel.
building had exploded.
Please fill in your e-mail so we can share with you our top stories!