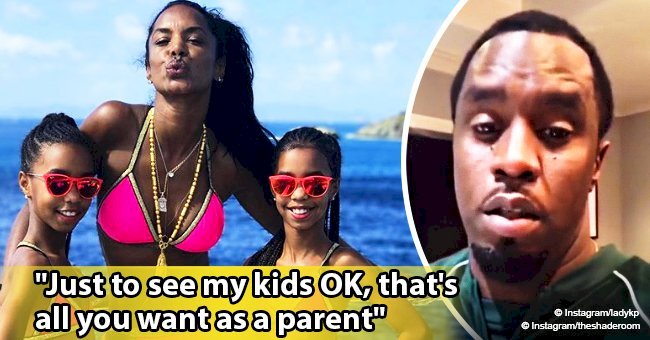 Diddy thanks everybody for prayers in video, says his daughters are smiling again after mom's death
Following his cry for help on Instagram, Diddy updated fans with the good news that his daughters are smiling again after their mother, Kim Porter's death.
This past weekend, Diddy shared a video of his three daughters hanging out with friends in two bunk beds and letting their father know who won a particular gingerbread-house competition.
The twins, Jessie and D'lila, were there, and so was Diddy's daughter from another relationship, Chance.
After his light banter with the girls, Diddy turned the camera on himself for a "personal moment." "I feel so blessed to see my girls smiling and to see 'em fighting and moving forward is such a blessing," he began, adding:
"I didn't really just get a chance to say 'Thank You' to the hip-hop community, artists community, and the whole world for all the blessings and prayers for us."
"Just to see my kids okay, that's all you want as a parent," Diddy continued. "And give all glory to God. I want y'all to see my kids were okay because you all care, Love you."
Porter shared three of her kids, Christian, 20, and the twins, 11, with Diddy. The rapper also helped her raise her older son from a previous relationship, Quincy Brown.
The gingerbread house competition was hosted by Porter's close friend, Kimora Lee Simmons, who had promised to take care of her late friend's kids like her own. Simmons had all the children, including her own, at her house where they all enjoyed some holiday fun.
The former model shared an Instagram snap of all the beautifully-decorated gingerbread houses, along with the caption:
"Our Friday Night...#gingerbreadhouse competition! #Whowon?! #love #fun #family#TheHousesMyCrewBuilt #kensolee."
Meanwhile, Diddy's good news comes on the heels of a worrying post he shared on social media, asking everyone to pray for his family because of a pain that money cannot stop.
"HELP ME. HELP ME. GOD PLS HELP ME!!! PLEASE PRAY FOR ME CAUSE MONEY CAN'T STOP THE PAIN!!! ONLY YOU CAN GOD. ONLY PRAYER CAN HELP ME GOD PLS HELP US!!! IF I DIDN'T NEED THE PRAYERS I WOULDN'T ASK. Prayer works. THANK YOU SO MUCH. THANK YOU. WE all WE GOT! YOU ARE ALL WE GOT!!! Love #TEAMLOVE."
Good to see the kids getting their smiles back.
Please fill in your e-mail so we can share with you our top stories!