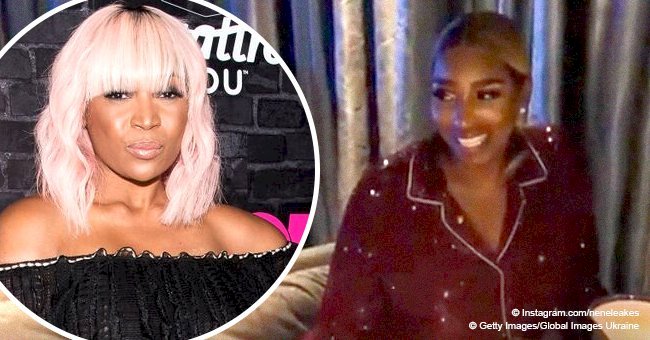 NeNe Leakes almost burns her wig while enjoying surprise ahead of her 51st birthday

Marlo Hampton surprised Nene Leakes with a pre-birthday celebration. During the celebration, Nene nearly burnt her wig.
Nene Leakes has made it public knowledge that she hates surprises. Marlo Hampton ignored the RHOA star and surprised her with an early 51st birthday celebration.
Nene took to Instagram to vent and show off the celebrations. She smiled happily in the video regardless of her stance on surprises.
"See this the kind of shit @marlohampton does without you knowing! She knowsssssss I hate surprises but wanted to kick off my BDAY week early! 12/13 #sagittarius #soembarrassing." read the caption
Fans immediately took to the comments section to wish Nene happy birthday and commend Marlo on being a good friend.
One fan wrote "that's what good friends do, little precious little girl at heart just wants her friends to give her the same back that loves that's all.'
Another said, "Need me some friends like this!! Happy early Birthday NeNe!"
In the video, Nene was presented with a fancy looking plate of cake with four burning candles attached to the plate. Her friends began singing happy birthday and a bashful Nene tried to hide behind her hands.
She leaned forward towards the cake and quickly sits straight up. She exclaims that her wig almost caught fire and giggles with her girls over the near incident.
Nene's social media recently has been filled with controversy. Porsha Williams and NeNe got into a massive spat on social media.
These two ladies have been arguing about loyalty for a few weeks now. However, on Thursday night, NeNe shared a pic that many took as a threat aimed at Porsha.
Fans of Nene immediately told her to stop. They warned her in the comments section that she might be overstepping the line.
In another shocking turn of events, Nene slammed her husband Gregg Leakes on social media. Greg was recently diagnosed with cancer.
The star had been supportive of her husband until recently. In a fit of frustration, Nene took to social media to call him out for his bad behavior at home.
She tweeted, "I would just think [thinking emoji] if i have or had cancer, i would see life so differently! Not being mean, grouchy and evil for no real reason! But that's me. Pray for me."
Please fill in your e-mail so we can share with you our top stories!