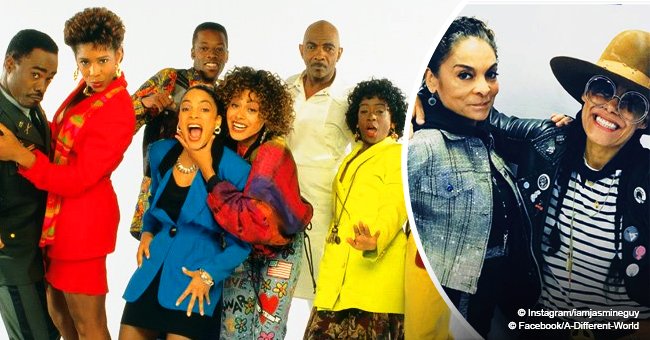 'A Different World' castmates Jasmine Guy and Cree Summer reunite for a good cause in new pic

Jasmine Guy and Cree Summer reveal their closeness in a reunion pic at a campus event where they awarded a sponsorship for a worthy cause.
It's been "A Different World" since the last time they were together and Jasmine Guy and Cree Summer recently reconnected to create a better world.
REUNITING FOR A CAUSE
The former co-stars of "A Different World" shared photo time during Ford's Ultimate Homecoming Takeover event at Southwestern Christian College. The campus won a scholarship donation from the famous automobile brand and Jasmine and Cree were on hand along with their former castmates, Kadeem Hardison and Darryl Bell to award the $100,000 donation.
A photo of the two ladies at the event was shared by Jasmine on her Instagram page and it was clear their friendship lived on beyond the show. Referring to Cree as "my Madame" in her caption, Jasmine looked lovely wearing a shimmery silver jacket over a black ensemble while she wrapped an arm around Summer who returned the arm hug. Cree looked funky in a wide-brimmed hat and sunglasses and she had a wide smile on her face, clearly relishing the moment to be reuniting with her co-star.
LIFE AFTER THE SHOW
As part of their participation at the event, the cast was interviewed regarding the impact of their show on their lives as well as Black people in America. Darryl revealed the show "continues to be one of the greatest blessing[s]" in their lives. Jasmine added that she was proud of the diversity of their cast which put forth the "true spirit about what being Black is."
THE SHOW LIVES ON
"A Different World" became an instant hit when it premiered in 1988 featuring educated Black students discussing issues such as race, sex, and equal rights. It's five-season run made quite an impact that the title sequence from the show inspired a recent promo clip for the second season of "Grown-ish."
WHERE THEY ARE NOW
Since leaving the show, Jasmine and Cree went on to do greater things. Apart from starring roles in television shows, Jasmine prides herself at being a mother to her teenage daughter, Imani.
Meanwhile, Cree capitalized on her voice and went on to give life to animated characters in cartoon series. She also pursued her passion for music and released an album produced by Lenny Kravitz, ex-husband of another former co-star on the show, Lisa Bonet.
Lisa was not in the Ford event. She famously left the show after two seasons. She pursued more adult projects while tending to her daughter, Zoe, with Lenny Kravitz who she married while still filming "A Different World." Zoe just turned 30 and a photo with her mom reveals how closely they resemble. It helped that they wore matching red tops and sported the same hairstyle. Zoe referred to her mother as "My Pal" in her caption, clueing in on their relationship.
Lisa is currently married to Jason Momoa and shares two children with him.
Please fill in your e-mail so we can share with you our top stories!