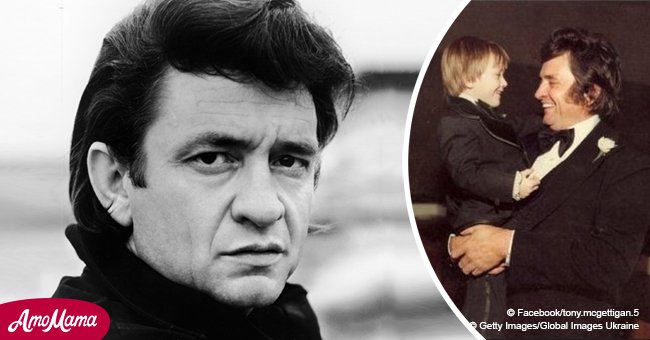 Johnny Cash's adult grandson shows off a voice almost as powerful as his grandfather's

Thomas Gabriel blew everyone away by singing a song from his legendary grandfather Johnny Cash.
In a recent performance, Thomas performed Johnny's iconic song "God's Gonna Cut You Down," and he belted out those extremely low notes that the late singer was known for perfectly.
Apparently, Thomas got his undeniable talent from his grandfather. Everybody was impressed by his vocals. Much like Johnny's, he has a deep, calm bass-baritone voice as well.
When he got out in prison in 2013, he promptly began working on the projects that he had started.
Follow us on our Twitter account, @amomama_usa, to learn more and scroll down to watch the video below.
Thomas is the son of one of Johnny and Vivian's children, Kathy. He is the firstborn of the Cash grandkids. Thomas has always wanted to be a musician. When he was young, he usually spent time with his grandfather on the road.
Johnny, who died of complications from diabetes on September 12, 2003, would call him in front of an audience and request that he sing his hit song "When the Saints Go Marching In."
Thomas took his vocals to the next level when he turned 21. While in a recording studio experimenting with his voice, his grandfather would say, "Son, you sound a lot like I did when I was younger; work on those vocals."
Aside from singing, Johnny also demanded that Thomas have a backup option.
In an interview, Thomas said, "I just turned twenty-one and he said he wanted me to go to the police academy. So, I went to the police academy. I was a police officer right under eight years."
"During that time – I've always had addiction problems like my grandfather did. Same chemicals. Same type of addictions. Pills got involved and that caused some series of events that led to me having to resign."
He added, "Soon after, I started building an arrest record that got to be pretty lengthy pretty quick. The next thing you know, I also did about seven and a half years in prison. About the same amount of time that I was a police officer, I was in prison!"
Thomas continued that he worked on music again while he was in jail.
"It was the first time in a while that I had a clear enough head to start to sit down and really start putting my time and efforts back into that. It's a God thing that that happened," he explained.
When he got out in prison in 2013, he promptly began working on the projects that he had started.
Even though life and misfortune have kept him from seeking after his dreams, he has regained control over his life and is back in the world that holds such a great amount of potential for him.
Please fill in your e-mail so we can share with you our top stories!