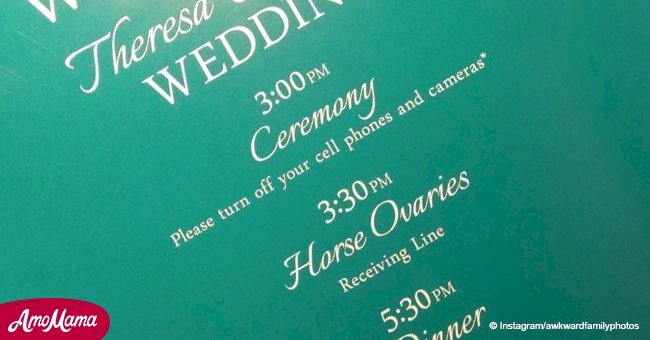 Friends find hilarious mistake on couple's wedding invitation
A hilarious typo on the wedding card of a couple gets the attention of the guests and quickly goes viral on the internet.
A famous Instagram account named Awkward Family Photos shared the snapshot of a wedding itinerary which mistakenly wrote that the guests would be having "Horse Ovaries" instead of Hors d'oeuvres at 3:30 pm.
The hilarious typo was found on the wedding invitation of the soon-to-be-married couple, Theresa and Jason, both of whom must have been surprised beyond words to see the strange item on their wedding itinerary.
Planning a wedding can, of course, be a lot hectic and it requires great attention to even the tiniest of details. However, despite all the efforts, there is often no guarantee that everything will go as planned, as seen in the case of this particular wedding.

Source: Instagram/AwkwardFamilyPhotos
Follow us on Twitter to learn more.
The itinerary starts off on a great note, just like any other normal wedding does. It begins by welcoming the guests to the special ceremony.

Source: Instagram/AwkwardFamilyPhotos
Following the warm welcome, the first activity of the day is announced, which, of course, is the wedding itself that begins at 3:00 pm. Surprisingly, the itinerary also requests all the attendees to switch off their phones for the function.
Now it's time to move on to the second activity for the day. And this is where the guests couldn't help but notice the hilarious error that had been made.

Source: Instagram/AwkwardFamilyPhotos
The guests found out that they would supposedly be served "Horse Ovaries," as the itinerary read, "3:30 pm. Horse Ovaries. Receiving Line."
Fortunately, the remaining two items in the itinerary had no trouble in their meanings. The guests were having dinner at 5:30 pm and the party time began at 6:30 pm.

Source: Instagram/AwkwardFamilyPhotos
The itinerary also strictly instructed the guests to "turn off" their cell phones and cameras because the bride and the groom wanted them to be "fully present" during their wedding.

Source: Instagram/AwkwardFamilyPhotos
The post shared by Awkward Family Photos has so far gained more than 7,000 likes with hundreds of people taking to the comments section to express their views.
Meanwhile, it looks like Theresa and Jason are not the only couples to have faced a slight embarrassment during their wedding.
Several people took to an online forum on Wedding Wire to talk about their own experiences of hilarious errors committed during a wedding ceremony.
As a ceremony popular for being an equal mixture of joy and stress, weddings often turn into a storehouse of many such awkward moments and hilarious incidents.
Please fill in your e-mail so we can share with you our top stories!