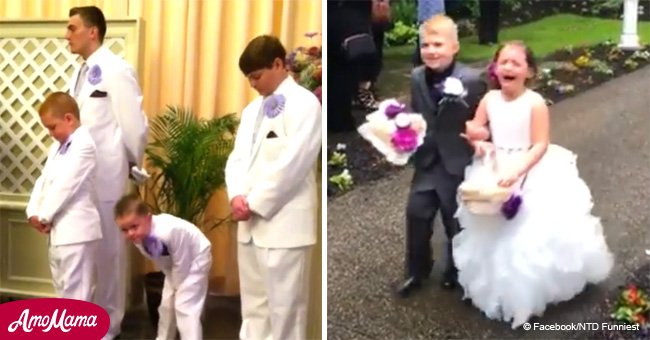 Compilation of children at weddings doing the opposite of what they're asked
Children really are a treasure, but they can often pick the wrong moments to steal the spotlight, as is the case with these little ones and weddings.
Many couples opt to have children involved in their special day. It may be the child of a close friend or family member, but that doesn't guarantee the flower girls and pageboys will behave!
Children have personalities of their own, and often find it harder to take instruction than their adult counterparts. As this Facebook compilation shows, these couples learnt this the hard way.
Every bride hopes to have a perfect wedding. Unfortunately, more often than not, plenty of things go wrong during the day, from lost items of clothing to lost rings, to an accident holding up the flower delivery and band.
They also hope against all reason that the tiny humans involved in the ceremony will have suddenly aged a decade over night, and be more susceptible to following orders.
Sadly for them, this is unlikely. But these funny children can make the day all the more memorable, so long as things don't go too far south.
From a flowergirl who seems to have fallen asleep on the job, to a young ring bearer who thinks tossing the ring to the groom will save him some time walking, these children have definitely had enough of these weddings!
But there's also a little cutie who stole the show on the dancefloor during the bride and groom's first dance, and another sweetheart who thought he had to carry the bride's train the entire evening, including as she twirls around the dancefloor.
One little boy decided to do a runner as he was walking down the aisle with two flowergirls, and started slithering - quite literally - back up the aisle. Fortunately the two little girls continued gracefully on their way.
There is also a little one who is grossed out when the couple shares their first kiss, and a few that require carrying down the aisle to perform their duties.
Please fill in your e-mail so we can share with you our top stories!