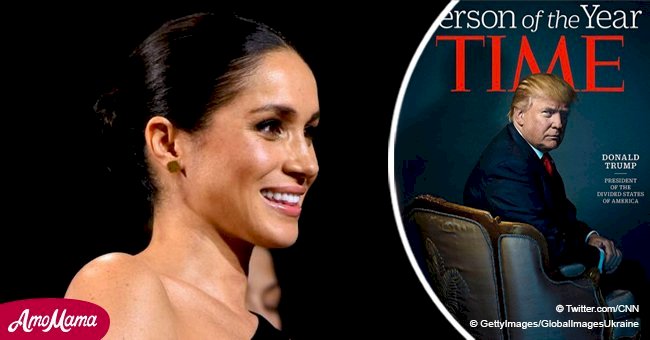 Meghan Markle makes 'Person of the Year' shortlist alongside Trump and immigrant families

Meghan Markle may receive another official title in addition to her new role as the Duchess of Sussex.
The 37-year-old was shortlisted on Time's "Person of the Year" for 2018 alongside President Donald Trump and others.
The magazine praised the Duchess for leaving her role as an American actress to become a member of the royal family when she married Prince Harry.
Follow us on Twitter for more @amomama.
Indeed, it felt like the entire world was looking on when the pair got married in May. They kept looking as Markle went on her first royal tour, attended events, and released her book.
Royal fans continue to follow the Duchess who is expecting a baby early next Spring. Her significance was reflected through a feature on TIME's list of the 100 Most Influential People this year.
Others who make up the top ten on the Person of the Year list include Russian President Vladimir Puttin, American President Donald Trump, and South Korean President Moon Jae-in.
The 32-year-old director of the hit movie "Black Panther" also received a finalist position. Additionally, TIME considered Professor Christine Blasey Ford and former FBI Director Robert Mueller.
Finally, groups such as the families that were separated at the U.S. - Mexico border and the March For Our Lives activists were named. Jamal Khashoggi headed a group called "The Guardians" by the magazine.
The TIME person of the year has been running since 1927 when the magazine forgot to give Charles Lindbergh a cover. Lindbergh made a historic flight in that year so TIME had an idea to name him "Man of the Year."
TIME Magazine's Person of the Year is not necessarily all about honoring the good guys, however. They have a "for better or worse" caveat, sticking to the theme that it's about the person or thing who have the greatest effect on the lives of many people.
Some Americans might question Trump's influence. But we might recall that he gave himself an A+ on his presidential performance thus far.
Back in November, the POTUS did an interview in which the interviewer asked him to rate his presidency against his predecessors.
He responded:
"I would give myself, I would — look, I hate to do it, but I will do it — I would give myself an A+. Is that enough? Can I go higher than that?"
No other president had gone higher than that when asked the same question. Nonetheless, the magazine ultimately went with "The Guardians" as Person of the year.
It is the first time the magazine has selected a deceased person, Khashoggi, to cover the magazine as Person of the Year. Khashago, a journalist, was killed in Istanbul in October.
Please fill in your e-mail so we can share with you our top stories!