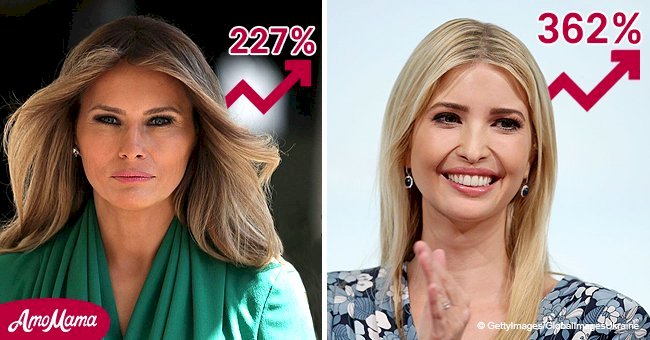 Number of babies named after Melania soars by 227% while Ivanka shows a whopping 362% growth
As times change and trends emerge and disappear, what people name their children also changes. It is almost possible to tell someone's name by their age. Children born in 2018 have a particular identifier.
Baby names are often influenced by events that happened around their birth or by which people were influential at the time. 2018's most popular baby names are no different.
In recent years traditional names such as John and Sarah have not featured on the top baby names list, but a new trend has emerged. It seems that modern day parents prefer giving their children more unique names.
Read more on our Twitter @amomama_usa.
BABY NAME DECISIONS
In recent years parents have taken to naming their children after characters on popular television shows, politicians, influential people. There also seems to be a growing preference for gender-neutral names.
In the USA parents seem to have taken their cue from the First Family. The First Lady, Melania Trump, and her daughter, Ivanka, have had their first names used by many new parents in 2018.
While some American parents were naming their daughters Ivanka and Melania before 2018, they were few and far between. This year the increase in babies born with these names has increased dramatically.
In 2018 there 227% more babies given the name Melania and 362% more babies given the name Ivanka. Parents of baby boys also favored the name Barron, after Barron Trump. The name saw a 90% increase.
POPULAR NAMES
The most popular baby names this year were not only based off of the Trump family. In the USA the most popular names are Sophia and Jackson for girls and boys respectively.
This is the sixth year in a row that these names have been the most popular. Various forms of Sophia (such as Sofia) have been the top name for nine years straight.
Other top names for baby girls include Layla, Olivia, and Emma; whereas for boys it is Oliver, Liam, and Noah.
UK NAME TRENDS
The UK differs from the USA in its baby naming trends, as the Royal Family are the primary influence. Prince Harry's marriage to Meghan Markle earlier this year played a distinctive role in this.
Cases of parents naming their daughters Meghan rose by 49% in 2018. Prince William and Kate's youngest child, Price Louis, also inspired a 17% increase in his name this year.
Princess Eugenie recently married Jack Brooksbank. It suspected that this would cause their first names to be amongst the most popular baby names next year.
Please fill in your e-mail so we can share with you our top stories!