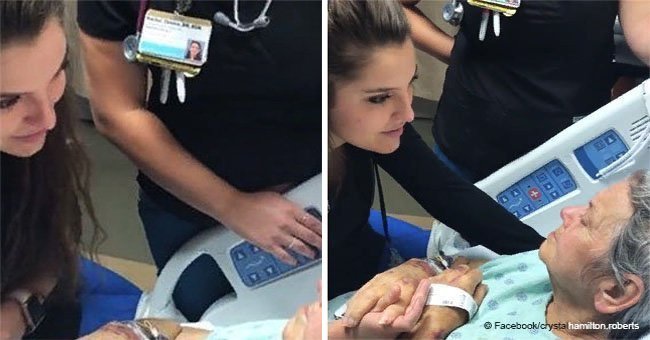 Tennessee nurse sang to patient dying of cancer and the sweet video went viral
A Vanderbilt University nurse was spotted comforting a dying patient by offering him a song in her soulful voice.
Margaret Smith, 63, was losing her battle with cancer and was being dismissed from the hospital when nurse Olivia Neufelder sang to her "Dancing In The Sky" by Dani and Lizzy.
The beautiful and inspirational moment was captured on video by a friend of Smith, Crystal Hamilton Roberts. Follow us on Twitter to learn more.
Smith would have received a liver transplant but the doctors later decided against it due to her failing health condition.
Smith first arrived at the medical center in October 2017 after a rapid deterioration of her health as a result of the liver cancer which she was suffering for about a year.
Smith's friend, Roberts, later took to Facebook and shared the beautiful video which showed Neufelder singing to the patient before she was moved back to Cookeville nursing home.
She posted the video along with a caption that expressed the gratitude she felt toward Neufelder. She deemed Neufelder the "sweetest nurse in history."
The friend explained in her post that when Smith asked her to sing the song, she immediately did it and did not give any excuses regarding time:
"The definition of a nurse for our family will be Olivia."
When Neufelder sang for Smith, she did not seem like a patient. Neufelder wanted her to know that she was loved and was a part of the family, even though her actual family could not be there.
Smith passed away three months later in August 201, however, the video of Neufelder singing to her has become one of the greatest tributes for a departed soul.
Giving someone support and care in the most disheartening time of their life is truly a noble deed. People show such angelic care for another human being and prove that they simply deserve a place in heaven.
In another similar story, a teenager proved to be such an angel after she stood beside her boyfriend's hospital bed in his hour of great suffering.
Please fill in your e-mail so we can share with you our top stories!