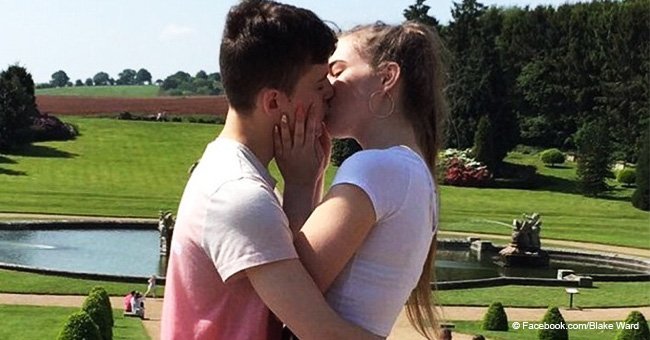 Heartbreaking photo shows teenager cuddling her dying boyfriend in his hospital bed

The teenager had been swimming with two friends when he had gotten into difficulty. After his rescue, his family were given devastating news about his condition.
16-year-old Blake Ward had been enjoying a warm summer day at Tywyn, Gwynedd, in Wales on Tuesday, July 31. The west coast resort town would become the scene of a tragedy when Ward and two other teenage boys started having difficulties in the water.
Two helicopters, three lifeboats, two coast guard teams, paramedics and police rushed to the water to help the boys in distress, and after some efforts they were pulled from the ocean.
Ward was airlifted to Alder Hey Children's Hospital in Liverpool where doctors tried everything they could to save his life. Tragically, on August 4, his family received the devastating news that he would never wake up from his coma.
On that day, his family made the difficult decision to turn off his life support, knowing that he wasn't going to recover from the accident.
The teenager from Dudley had been attending Hillcrest School and Community College, and headmistress April Garratt paid tribute to him as well.
"Blake was a wonderful young man, his teachers would say of him that he was bright, funny and kind-hearted. It's such a tragedy when a young life is taken especially in these circumstances. Our thoughts are with Blake's family and friends and the school will do all it can to support them and out students."
Throughout the entire ordeal, his girlfriend, 15-year-old Stephanie Ray, had not left his side for a moment.
Ray later took to Facebook with a beautiful memorial post for Blake, expressing her profound grief at his sudden loss.
"Today has been the hardest day for me and it will be a day I will never be able to forget," she started her post. "As you all know Blake was a loving a caring person and would do anything for anyone.[...] Blake was someone special to me and we had something special and we will always have that. Me and Blake had our ups and downs but we always got through them. But just know Blake wasn't in any pain and he passed away with his family around him and he will forever be missed and he will always have a special place in my heart."
Along with her beautiful words, she also shared a heartbreaking photo of herself lying in his arms in his hospital bed, taken just moments before his life support was switched off.
His family has since started a GoFundMe page to pay for his funeral costs.
The condition of the other two boys rescued with Ward is unknown.
Please fill in your e-mail so we can share with you our top stories!