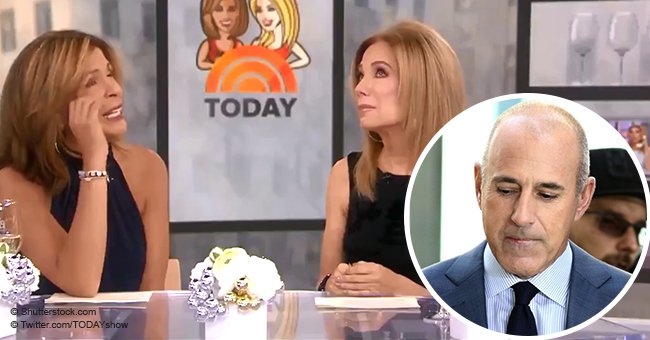 NBC's 'Today' show host Kathie Lee Gifford announces she's leaving the show after 11 years
Kathie Lee Gifford, one of the most popular anchors of "Today Show," revealed that she would retire from the program in 2019.
During a segment of the show, the co-anchor of the fourth hour of "Today" set clear that she had bittersweet news to share. After saying that leaving was hard, she admitted to being excited about her upcoming projects.
Gifford pointed out that she had been in the business "for 120 years" and she never worked with "a more beautiful group of people who just give, give, give every day." The 65-year-old lady added that she planned to stay in the show until her 11th anniversary, April 7, 2019.
Apart from that, Gifford said that her initial plan was to leave "Today" at the end of 2017. However, "something happened" along the way. The co-anchor added that she fell in love with an Egyptian goddess, referring to Hoda Kotb.
Even though it was a very emotional segment, the pair cracked a good laugh when the show producers created a very clever way to give them tissues – they hanged the box and placed it in front of them.
As People reported, the "thing" that happened that led Gifford to stay another year was Matt Lauer's firing after the sexual misconduct scandal in November 2017. She admitted to being ready to leave the show when producers contact her to arrange her schedule.
Since Gifford wanted to pursue film projects, the thing she needed the most was time, so when "Today" accommodated her working hours, there was no reason to leave.
According to Fox News, Gifford joined the show in 2008. Soon after that, the chemistry she and Kotb have had became evident, what made the segment a fan favorite. Before "Today," Gifford co-hosted "Live with Regis & Kathie Lee."
"We're going to be friends for the rest of our lives, and I'm grateful to God for you. When I left Regis, it was hard, but I'm closer to him now than we were after 15 years together. You don't share that kind of life together and not be changed forever by it," Gifford told Kotb in tears.
After learning such sad news, people took to Twitter to share their thoughts. Some of them pointed out that they would miss Gifford, pointing out that the partnership she and Kotb had would never be duplicated.
Others made their suggestions for her replacement, saying that they would love to see Jenna Bush Hager taking Gifford's role. So far, NBC has not revealed who will take Gifford's place.
Please fill in your e-mail so we can share with you our top stories!